Longtown Primestock Sale
17/04/08
The Cumberland & Dumfriesshire Farmers Mart P.L.C. had forward 89 prime cattle, 13 OTM cattle, 4,804 prime hoggs, 86 spring lambs and 3,803 cast ewes & rams at their weekly sale at Longtown on Thursday 17th April, 2008.
Clean cattle were the dearest trade of the season with a top price of 181.5p paid by M. Wharton Meats Ltd., for a Limousin bullock from J. & N. Blaylock & Son, Hallburn, others to 171.5p Hallburn, 169.5p Houghton House, 168.5p High Stenries, 167.5p (x3) The Gill, 167.5p Nether Onsett, 166.5p High Stenries and The Gill, 165.5p Houghton House, 164.5p Dashwellgreen; Belgian Blue 176.5p, 171.5p Hallburn to Woodhead Bros., Colne and Messrs Jewitt, Spennymoor, 165.5p Beckhall; Charolais 169.5p High Stenries, 169.5p and 161.5p Hallburn; Blonde d'Aquitaine 165.5p and 161.5p Hallburn. Heifers were in short requirement selling to 166.5p for a Charolais from J. & N. Blaylock & Son, Hallburn, 163.5p High Stenries; Limousin 164.5p Hallburn. Top prices per head:- Charolais bullocks £1,178 High Stenries, £1,096 Sceughdyke; Limousin £1,167 Houghton House, £1,139 The Gill; Belgian Blue £1,156 Hallburn; Simmental £1,112 Sceughdyke. Charolais heifers to £1,128 High Stenries.
A small show of Over Thirty Month cattle also saw the dearest trade of the season with Limousins to 117.5p Becton Hall; Blonde d'Aquitaine 112.5p Becton Hall; Friesian 106.5p Becton Hall, 104.5p Roanstree. Limousin to £940; Friesians £830; Blonde d'Aquitaine £742.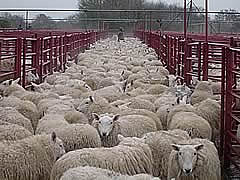 Another large show of hoggs. A large ring of buyers ensured well fleshed types upheld recent rates to average 139.5p, to a top of 172.1p for Cheviot hoggs from Messrs Reid, Glendearg and Texel hoggs to £80 from J P Fisher, Smalmstown, who sold others at £76.80 , £75.50 Blindhillbush; Suffolk x £76.50 Smalmstown, £73 Sykehead; Cheviots £74.20 Glendearg, £71.20 Blackrigg; Bleu de Maines £65 Stackbraes, Charollais £68 Blackleazes, £60 Knowe Farm, Halfbred £69 Sykehead, Greyfaces £66.80, £62.80 Dunjop, £62 Culquhasen; Cheviot Mules £65 Butterdales, £56.20 Murtholm; Leicesters £56.50 Westend, £54 Newton ; Zwartbles £60 Stanley House; Vendeens £57.20 Kirkwood Mains; Blackface £77.50, £65.80 Smalmstown; North Country Cheviots £71.20, £67 MacTaggart Bros; Swaledales £52.80 Aimshaugh, £46.20 Castle Nook; Herdwicks £60 Cardewlees, £55 Butterdales; Jacobs £49.50 Cardewlees.
Lightweight hoggs were again a good show with well fleshed types easily sold. Cheviots to £56.80 Glendearg; £52.80 Castle Nook; Suffolks £45.20 Castle Nook; Texels £52.50 Sockbridge Hall, £50.20 Stybeck; Charollais £50.20 Culquhasen; Greyfaces £45.20 Hillview; Blackfaces £49.20 Newton, £48.20 Craigdarroch; North Country Cheviot £54.20 Streethead; Swaledales £46.80 Redhouse; Herdwicks £40 Stybeck; Shetlands £35.80 Easthouse.
The company had forward 86 spring lambs at their opening show and sale. The lambs averaged 175p/kg. The pre-sale show was ably judged by Mr. R.T. Booth, Closenook who awarded the single lamb championship for a Cheviot lamb from Messrs Kennedy, Westerparkgate which scaled 52kg and realised £100 to the judge Mr. Booth on behalf of B Riley & Sons, Dunnockshaw, 2nd A Hoggan, Maryholm for a Charollais at 57 kg selling for £86, 3rd Mrs Hutcheon, Maulscastle for a Suffolk at 56kg selling for £85. The pair championship went to A Hoggan, Maryholm for a pair of Charollais lambs which scaled at 43kg and realised £86 to A Dawson for B Riley & Sons, 2nd D Martindale, Lands for Suffolks 48kg selling at £92, 3rd Mr. Jones, Ashcroft for Suffolks 53kg selling at £82.Texels to £84 Gill Farm.
The cast ewes and rams had more buyers operating and trade was again easier on the week. Top was £77.50 for Texel x ewes from Roadside, others to £70.50 Winterhope; Suffolks to £73.50 North Farm, £70.50 Rosefield, Suffolk x £69.50 Roadside, £66.50 North Farm; Beltex £68.50 Waterloo; Charollais £69.50 Maxton, £66.50 Thackwood, £65.50 Roadside; Halfbreds £65.50 Maxton; Greyface £54.50 Maxton, £48.50 Waterloo; Cheviot Mules £57.50 Stackbraes; North Country Cheviots £71.50 Waterloo; Leicesters £64.50 Foulshiels; Kerry £40 Winterhope; Wensleydale £43.50 Lybster.
Light ewes to £54.50 for Cheviots from Winterhope who sold others at £45, £44.50 Cadgillhead; Blackface £40.50 Peela Hill, £37.50 Stobo Home & Maxton; Swaledales £35.50 Spoutbank, £31.50 Aimshaugh; Shetland £41.50 Slodahill.
Rams to £68.50 for Texels from Winterhope; Suffolk x £61.50 Old Wall; Beltex £67.50 Roadside; Charollais £64.50 Roadside; Leicesters £54.50 Parcelstown; Blackface £34.50 Brackenthwaite & Earlshaugh; North Country Cheviots £50 Waterloo; Lleyn £43.50 Slodahill, Zwartbles £42.50 High Crindledyke; Oxfords £63.50 Severs Road.
Averages:
Steers
Light to -------p (-------p)
Medium to 167.5p (139.7p)
Heavy to 181.5p (155.7p)
Heifers
Light to -------p (-------p)
Medium to 165.5p (138.0p)
Heavy to 166.5p (145.5p)
Young Beef Bulls to -------p (-------p)
Hoggs
Light to 159.3p (127.4p)
Standard to 172.1p (142.0p)
Medium to 165.8p (144.5p)
Heavy to 163.4p (129.6p)
Shearlings to 147.1p ( 83.8p)
Lambs
Light to -------p (-------p)
Standard to 210.5p (183.5p)
Medium to 212.5p (197.3p)
Heavy to 193.6p (173.1p)
O/weight to 181.1p (151.3p)
Ewes
Light to £54.50 (£25.27)
Heavy to £77.50 (£44.91)
Cast Rams £68.50 (£42.01)

Longtown Primestock Sale - 10 April 2008


Longtown Primestock Sale - 3rd April 2008


Longtown Primestock Sale - 27th March 2008