Longtown Primestock Sale
10/04/08
The Cumberland & Dumfriesshire Farmers Mart P.L.C. had forward 93 prime cattle, 8 young bulls, 18 OTM cattle, 5,850 prime hoggs and 3,663 cast ewes & rams at their weekly sale at Longtown on Thursday 10th April, 2008.
A full ringside of buyers saw prime cattle a very fast trade easily maintaining recent high rates. Top price of 170.5p for a Limousin heifer from J. Crichton, Loughrigg Farm, purchased by W. Kirkup Butchers, Longtown, 159.5p Dashwellgreen, 157.5p Hallburn, 155.5p Dashwellgreen and Houghton House; Belgian Blue 165.5p Bloan Farm, 165.5p, 163.5p Hallburn, 161.5p Gardrum, 154.5p Beckhall, Bloan Farm and Gardrum; Charolais 152.5p, 144.5p Fenton Farm. Top gross heifer to £994.18 Bloan Farm. Limousin bullocks to 167.5p from J. & N. Blaylock & Son, Hallburn to M. Wharton, Butcher, Wigton, 164.5p The Gill, 163.5p Hallburn, 162.5p Dashwellgreen and The Gill, 162.5p (x2) Houghton House; Belgian Blue 166.5p The Gill, 165.5p Hallburn, 158.5p Haining House, 155.5p (x2), 149.5p Hallburn; Charolais 153.5p Hallburn, 147.5p, 145.5p Sceughdyke. Top gross bullock £1,172.90 Haining House.
Young bulls met a flying trade, selling to 156.5p for a Limousin from D. & L. Graham, South Lambhill, 148.5p South Lambhill, 144.5p Sceughdyke; Simmental 143.5p Sceughdyke; Friesian 122.5p Harelawhole.
Over Thirty Month cattle again met a fast trade, selling to 133.5p and 131.5p for Limousin bullocks from J. Watret, Burnside. Friesian heifers to 114.5p, 102.5p Hethermill. Limousin cows to 107.5p Becton Hall, 105.5p Roachburn; Friesian 99.5p Brisco Hill, 90.5p Harelawhole, 89.5p Brisco Hill.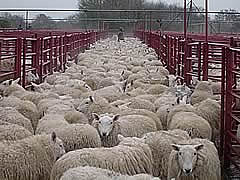 With 5,850 prime hoggs forward to the usual ring of buyers averaged 144.9p per kilo overall. A top price of 187.6p per kilo was realised for Texels from Messrs MacTaggart and to £86.50 per head for Texels from Messrs Bell, Mossband Hall. Good quality well fleshed lambs in all categories were easily sold and in short supply. North Country Cheviot £83.50 MacTaggart; Hill Cheviot £82.50 Naddle Farm; Suffolk cross £80.50 Sceughdyke and Demesne; Greyface £74.50 Sceughdyke; Blackface £74.20 Smalmstown; Lleyn £70.50 South Bowerhouses; Charollais £69.20 Naddle Farm; Wensleydale £59.80 Colter Coats; Beltex £56.80 Naddle; Half Bred £54.20 Haithwaite; Leicester £60 Whitedyke; Herdwick £50 Rowhead; Swaledale £46.80 Kirkhaugh.
The lightweight hoggets were a mixed show with many store type hoggs best suited to a store sale forward. Well fleshed hoggets were easily sold. Beltex £62.50 Redbanks; Cheviot £56.50 Newtown; Blackface £54.80 Yett; Texel £52.80 Beechcroft; Suffolk £48.80 Beechcroft; Greyface £47.20 Nunscleugh; Lleyn £43.50 Yett; North Country Cheviot £42.20 Greenfield; Herdwick £40.20 Rowhead; Shetland £40 Redbanks; Zwartbles £38.80 Tushielaw; Swaledale £36 Naddle.
The 3,663 cast ewes and rams were another good show, although bidding was sharper trade was cheaper to average £44.91 overall. Top price of £82.50 for Texel cross ewes from Crailloch Farm, £79.50 Bardnaclavea; Suffolk £81.50 Pentland View; Suffolk cross £74.50 Ballyclare; Beltex £70 Winterhope; Charollais £68.50 East Mains; Half Bred £66.50 Ford Mill; Leicester £66.50 High Greenhill, £64.50 Nunscleugh;North Country Cheviot £66.50 Bardnaclavea; Greyface £60 High Dubwath; Zwartbles £52.50 Mallsgate. Hill ewes to £49.50 for Cheviots from Rose Farm and Langholm Mill; Blackface £44.50 Graystale, £41.50 Railway Rd, £39.50 East Mains; Swaledale £44.50 Sunnyside, £42.50 Gallowberry; Kendal Rough £33.50 Mallsgate; Herdwick £28.50 Butterdales. Rams to £80.50 for a Suffolk from Holm Farm; Texel £78.50 Ford Mill; Charollais £78 Winterhope; North Country Cheviot £74.50 Railway Rd; Leicester £66.50 Westhills; Hill Cheviot £65 Winterhope; Beltex £60 Winterhope; Lleyn £49.50 Westhills; Blackface £32.50 Barnakill; Swaledale £28.50 East Mains.

Steers
Light to 150.5p (150.5p)
Medium to 153.5p (139.6p)
Heavy to 167.5p (149.8p)
Heifers
Light to -------p (-------p)
Medium to 159.5p (148.1p)
Heavy to 170.5p (142.5p)
Young Beef Bulls to 156.5p (138.6p)
Hoggs
Light to 165.0p (125.3p)
Standard to 178.5p (141.6p)
Medium to 187.6p (154.5p)
Heavy to 176.5p (142.3p)
Shearlings to 132.8p ( 85.0p)
Ewes
Light to £49.50 (£28.67)
Heavy to £82.50 (£50.48)
Cast Rams £80.50 (£53.23)

Longtown Primestock Sale - 3rd April 2008


Longtown Primestock Sale - 27th March 2008


Longtown Primestock Sale - 20th March 2008