UK Bred Holstein Bulls on the Rise
04/04/08
The April proof run was mainly one of stability for Cogent sires, showing the strengths of the UK proving system. However two UK bred bulls made significant strides in the rankings.
Broomhouse Phil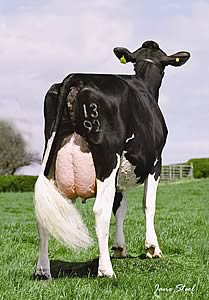 Huddlestone Spooky, a new release in January jumped £12 PLI points to £190 now placing him well inside the UK Top 10. Spooky is an exceptionally complete sire breeding robust cows with super udders and very good legs and feet, combined with his easy calving status and ability to significantly reduce cell counts he is an obvious choice for any producer.
The other bull on the rise is top Type sire Dalbytop Phil. Phil offers 2.5 Type Merit with exceptional udders +2.2 and fantastic feet and legs +1.9. However it is for production that Phil is on the rise, gaining £31 PLI to £164. Phil also offers a positive fertility index at +1.9 and lifespan of +0.2.
Other Cogent, UK bred, sires featuring in the top PLI rankings are Bilsrow Jock who maintains his position at No. 3 with £213 and Cogent Desmond who rises slightly to £201. Both bulls offer exceptional component improvement and robust type.
Oceans of Milk from Cogent
At a time when farmers are looking at ways to raise their milk sales, Cogent have an unsurpassed offering of bulls that can maximise the genetic impact on milk.
Four of the Top 5 bulls for milk, proven in the UK, with over +1 for Type Merit are from the Cogent stud.
1. Cogent Admiral 2nd +975kg - Cogent
2. Stair JB Fron +923kg - Cogent
3. Fustead Emory Blitz +835kg
4. Cogent Classic +730kg - Cogent
5. Netherside Dynamo +725kg - Cogent

Dairy Daughters Celebrates Double Triumph in Latest Bull Proof Run


Bullsemen's Strong April Proofs Performance Built On Reliability


Milking Grass for Profit