New Case IH Quantum C Tractor Provides All-Round Performance
12/02/08
The new Case IH QUANTUM C is a compact and economical tractor developed as a true all-rounder for farm and field work and municipal applications. The "C" in the new name stands for the tractor's compact shape and low overall cab height.
Case IH QUANTUM C 95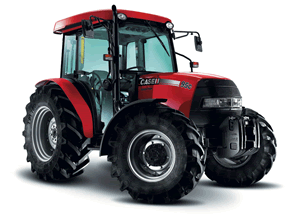 Two new QUANTUM C models feature powerful and fuel-efficient engines; the QUANTUM C 85 with 86hp (63 kW) and the QUANTUM C 95 with 97hp (71 kW) engine power. The QUANTUM C replaces the previous JXC 1085 and 1095 models and features significantly improved and upgraded standard equipment.

New generation 4.5 litre engine
A new generation 4.5 litre clean burning engine meets the latest Tier 3 emission standards and offers high performance and economy. Fitted with turbochargers and a new intercooler as well as exhaust gas recirculation (EGR) as standard, the engine complies with emissions legislation and saves more than 4% in fuel consumption compared to earlier models. This new engine is distinguished by a low 2300rpm rated speed (200rpm lower than previously) and improved engine characteristics with a higher torque and optimised torque rise. In addition, these engines are B100 biofuel compatible.

New transmission technology for comfortable shifting
There have also been further developments in the transmission. The popular 2-speed powershift with Powershuttle transmission can now be upgraded to include the Powerclutch. The Powerclutch device, first seen on JXU tractors, allows the driver to press a button in the head of the main gear lever, which releases oil from the clutch packs and allows gear shifting without need to use the clutch pedal.

Strong frame and more power at the rear
To keep pace with its more powerful engine performance, key components such as the transmission construction have been significantly strengthened and the rear hitch has also been improved. These engines now offer a maximum lift capacity of more than 2600kg and the maximum permissible towing weight has been increased to 5250kg.
To reflect the need for greater versatility, the standard hydraulic flow rate available to the remote valves has been increased to 50 litres per minute. For more intensive applications, an optional high-flow system with a capacity of up to 64 litres per minute is available, to simultaneously power multiple hydraulic services or operate hydraulic motors.
The cab equipment in the new QUANTUM C models has also been enhanced to incorporate ISO-bus technology. A newly-developed control panel design has improved displays and new diagnostic system enables easier and quicker maintenance.

Case IH Module Express™ 625 Streamlines Cotton Harvest


New Skipton Show Targets Agricultural Sector


McCormick Venture for Lincolnshire Farm Machinery Dealer


Recruitment Drive Nets Ten New Dealers for McCormick Tractors