Recruitment Drive Nets Ten New Dealers for McCormick Tractors
24/01/08
An energetic campaign to recruit dealers to the McCormick retail sales and product support network has so far resulted in ten new outlets for Britain's fourth best-selling tractor range.
Stewart Barnett, UK sales manager, says recruiting ten new dealers to the network will bring farmers closer to McCormick sales, service and parts in many areas.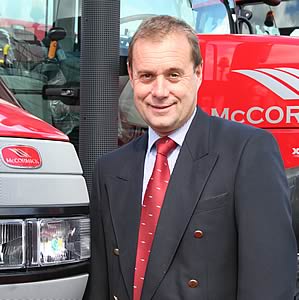 The recruitment campaign aims to improve market coverage by filling vacant territories and replacing dealers lacking commitment to the McCormick product range. More signings are expected over the coming months.
"Once this programme is complete, McCormick tractors will be available through a larger number of sales outlets and bring farmers closer access to McCormick products, parts and product support in many areas of the country," says Stewart Barnett, UK sales manager. "We'll be actively supporting our committed dealers – new and old – with keen finance and other initiatives, and an expanded service support team."
The newly-appointed dealers filling previously vacant areas are Des Wootton Agricultural Engineers, based at Lower Boddington between Banbury in Oxfordshire and Daventry, Northants; Marc Shepherd, who will cover an area in north-east Lincolnshire from his base at Legbourne, near Louth, Lincs; Rob Stevenson's Agriplus operation at Dunsdale near Guisborough, North Yorkshire; and P&SM Johnson, run by Paul and Stuart Johnson, near Holbeach, Lincs.
Further north, there are new McCormick dealers in Cumbria and Northumberland: Geoff and Kaye Relph of Relph Machinery, Great Broughton near Cockermouth; David Pigney at H Pigney & Son, Appleby; and Ray and Dorcus Edmondson's Newtown Engineering, at Rothbury near Morpeth.
McCormick CX tractors ready for delivery to the company's new dealers.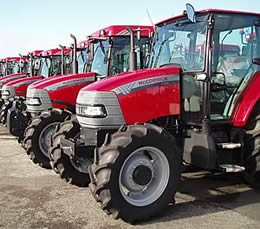 Across the border into Scotland, Clive Montgomery of CAM Engineering, Castle Douglas becomes the new dealer for McCormick's central Dumfries & Galloway area; while John Drysdale Agricultural Engineers at Kinneswood is appointed in Fife, along with Fraser C Robb at Drymen in Stirling.
"While location played an important role in selecting these dealers, we were also attracted by their emphasis on customer service," says Stewart Barnett. "We'll be doing our bit to support them through expert service training, increased support from a field service team of six rather than four field engineers, and an extensive stock of parts and consumables for current McCormick and heritage tractors."

The Roundhouse - An Innovation in Agricultural Buildings


Looking at the Need for Effective Cattle Buildings


Landini Alpine Tractor Reaches the Parts ...