McCormick Venture for Lincolnshire Farm Machinery Dealer
07/02/08
A family-run agricultural engineering firm in Lincolnshire is confident of expansion this year following its appointment as one of ten new retail sales and service dealers for the McCormick tractor range.
Looking forward to business expansion – Marc (left) and Jenny Shepherd, with parts manager Philip Parrish and service technician Andy Davey.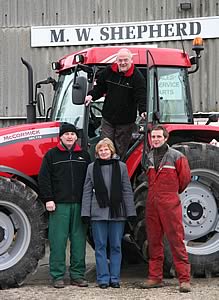 According to Marc Shepherd of MW Shepherd, Legbourne near Louth, the wide-ranging appeal of the McCormick range – which includes tractors from handy compacts to heavy-weight arable and contractors' machines – provides plenty of scope for attracting new customers.
"In past years we've specialised in supplying tractors and equipment to livestock farmers," he says. "But with McCormick we have a great opportunity to break into the arable sector because of the features and performance of the higher horsepower models in the range."
A positive sign for Marc's prospects is that despite McCormick not being represented locally, farmers have been prepared to purchase its tractors from dealers some distance away, when traditionally they like to source from as close to home as possible.
"It shows that McCormick already has quite a following in the area," he says. "In recent years, I've been offered other tractor franchises and have turned them down. But McCormick is a different matter; it's a strong tractor range and the franchise gives us a great opportunity to develop our business further."
The MW Shepherd team now represents McCormick in an area that extends from the Humber southwards almost to Skegness, where it borders the territory covered by Robert H Crawford & Son at Frithville near Boston, and westwards from the coast to Scunthorpe and Horncastle, where it meets the territory covered by Grundy Agricultural at Washingborough near Lincoln.
As part of the ARGO Group, McCormick is an important element of a global business that in 2006 generated sales worth more than £620 million. In Britain, McCormick is the fourth most popular make of tractor, with a range that extends from the 28hp to 47hp CT compacts, suitable for use on smallholdings, in horticulture and for landscape maintenance, to the award-winning McCormick XTX models spanning 170hp to 213hp.
"Between those extremes are the C-Max, CX, MC and MTX models that are widely used on stock and arable farms," says Marc Shepherd. "I'm looking forward to introducing existing and new customers to what McCormick has to offer and backing up any purchases with good service and parts support."
Marc and his wife Jenny, who looks after sales administration, are supported in the parts department by Philip Parrish and in the busy service/repair workshop by Andrew Davey and Carl Smith.

Recruitment Drive Nets Ten New Dealers for McCormick Tractors


The Roundhouse - An Innovation in Agricultural Buildings


Looking at the Need for Effective Cattle Buildings