2008 Charity Big Farmhouse Breakfast looms
02/01/08
Sponsors are digging deep to support the annual Yorkshire "Charity Big Farmhouse Breakfast" feast.
West Country Cheddar and Onion Waffles
with Lincolnshire Sausages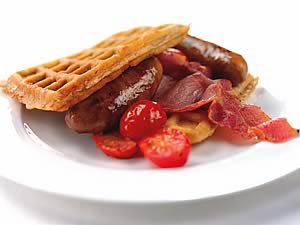 The 2008 event takes place on Wednesday and Thursday, January 23 & 24, at Mill Close Farm, Patrick Brompton, Bedale.

It is again being organised by Yorkshire members of Farm Stay UK, the country's largest network of farm-based accommodation providers, and host Patricia Knox reports plenty of advance interest from both sponsors and traditional English farmhouse breakfasters.

Yorkshire Cancer Research will benefit from the two-day breakfast bonanza, with £250 funding already in place from the Royal Bank of Scotland and £100 from Skipton Building Society. Food sponsors have also been quick to give their support.

Big Farmhouse Breakfast Week – Yorkshire members of Farm Stay UK have raised many thousands of pounds for charity over the years - is run by the Home Grown Cereals Authority to promote both the importance of starting the day with breakfast and the quality of local and regional produce.

Big Farmhouse Breakfast Fundraiser


Farmers Donate Scottish Sprouts for Christmas


Chill Out This Christmas With EBLEX