Livestock Farmers Send Supply Warning to Retailers
24/01/08
NFU Scotland's Livestock Committee, comprising sheep and beef farmers from across the country, has warned retailers that significant shortages of product are on the horizon unless better prices arrive soon. The concern is that farmers are set to sell their breeding stock as rising costs make businesses unsustainable.
"fertiliser, feed and fuel prices are all escalating"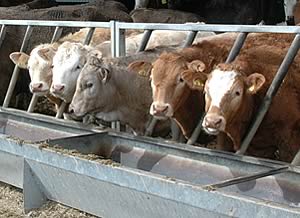 The Union has given the warning a week after Sainsbury's, the UK's third largest retail chain, was reported to have had to source emergency supplies of beef when its usual supplier ran short. The shortage of beef is not confined to Britain. Irish cattle are becoming more difficult to source and South American beef is facing tougher restrictions on export. With fertiliser, feed and fuel prices all escalating, NFUS has huge concerns that the production of both beef and lamb could be about to suffer a serious drop unless prices start to reflect both the tight supply situation and rising costs. The Scottish Government figures produced following the last census in June 2007 showed drops in both breeding sheep and cattle numbers.
Speaking after a meeting of the Livestock Committee in Edinburgh today, its Chairman, Kelvin Pate, said:
"The major supermarkets do not want to be making the same mistakes they did in the dairy sector, where they presided over a downturn in domestic production which jeopardised their supply.
"The production costs on farm have gone through the roof. Fertiliser prices have virtually doubled, grain shortages have driven up feed costs and the impact of fuel prices has been well documented.
"In the beef market, the supermarkets have traditionally used foreign sources of cattle as a safety net. But the most common exporters are facing problems themselves. Irish cattle are scarce and their prices are higher than they are here, Brazil is facing new EU controls and Argentina has imposed domestic controls on exports. The price of beef is starting to move but the momentum needs to increase. Farmers are facing big decisions this year on whether they keep cows to calve for another year, or put them down the road and they need positive signals from the supply chain if they are to stick at it.
"The situation in the sheep sector and pigs sector is equally serious. If retailers and processors don't work closely to recognise exploding costs and reducing supply, their customers are going to start seeing the consequences on the shelves, as Sainsbury's apparently found out last week."

Cumbria Farmer Network Goes From Strength to Strength


NFU Conference 2008 - Growing for Another Century


TFA Gives Essential On-Line Help With Farm Rent Reviews