Cumbria Farmer Network Goes From Strength to Strength
21/01/08
Cumbria Farmer Network (Rural Futures) has established itself in less than two years with membership already well over target and funding reserves setting the foundation for economic security.
Directors at the annual meeting, left to right Thomas Whiteford, Steve Marsden, Alex Smith, Ken Pears, Judith Emmott, John Thirlwall and Will Rawling.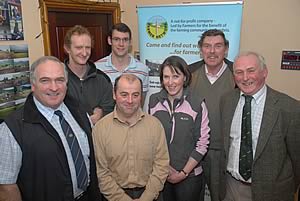 Farmers gave their financial backing in January 2006 to take over in the summer of that year the role established by Cumbria's Rural Futures, a project of Voluntary Action Cumbria, to help them meet change and secure their own futures as well as that of rural Cumbria.
And at the company's third annual meeting at Threlkeld, near Keswick, on Thursday (January 17) company secretary Paul Harper reported a membership rise from 320 at the end of August 2006 to 455 in 12 months – a 42 per cent rise over the previous period and well over its original membership targets.
During the non-profit making company's first full 12 months of trading to the end of August 2007, it has had a surplus of income over expenditure of £41,700 which is £6,600 less than the grant aid towards administration costs received during that period.
As much as £130,000 worth of funding had been generated for projects during the trading year to benefit farmers in the county.
Mr Harper, who congratulated the membership on building such a company run by farmers, reported: "I still have to pinch myself when I think how quickly the company has developed a good reputation with funding agencies as being able to manage and deliver projects that are closely linked to members needs. This shows that farmers are capable of working together and will get the support of the public sector, if they deliver to a high standard".
"The policy on generating a surplus this year, despite being a not-for-profit company has been deliberate".
"The directors and I have taken the view that we need to generate a surplus in the early years of trading to generate reserves that can be used in future to cover cash flow deficits and it invest in new activities that have the potential to generate a net income because it is unlikely that all administration costs will be able to be met from income and private sponsorship."
He estimates that the level of reserves needs to be around £50,000 to manage cash flow as many projects are funded retrospectively.
Mr Harper added: "I am confident that the company can grow to become sustainable without grant aid to cover core administration costs".
"To achieve this we need farmer members to continue to get involved and help us to help them. Some sectors are facing severe problems and will need all the help we and others can give to them to help them survive."
The new board of directors elected at the annual meeting were: Eden, John Thirlwall and Eileen Simpson; Allerdale, Ken Pears and Judith Emmott; Carlisle, Claire Scott and Thomas Whiteford; South Lakeland, Steve Marsden and Alex Smith; Copeland, William Rawling and Richard Maxwell.
Cumbria Farmer Network has had a high level of commitment from directors, office manager and the team which regularly works for the company, support which will be necessary to continue to grow the company. They have also had financial support from the Northern Rock Foundation, Cumbria Community Foundation, Hadfield Trust, Carrs Billington, the University of Cumbria and other local sponsors.
It has worked with a number of partner organisations and has been successful in managing several funded projects.
Among activities during the year, Cumbria Farmer Network has:
Organised 33 mainly technical farm demonstrations and workshops
Made two collections amounting to 125 tonnes for the Farm Plastic Recycling Scheme which just broke even despite a grant of almost £10,000. Cost effective negotiations have been made with Solway Recycling for this year's scheme which has no membership restrictions
Held 15 farm demonstrations in a joint project with Cumbria Farm Link in a catchment sensitive farming project to help farmers in west and south Cumbria minimise fertiliser costs and reduce diffuse pollution.
Run a farm assistants' scheme, ending July 2007 and starting a new scheme for 2007-08
Started the Hills Alive project with farmers in Cumbria, Northumberland and the Peak District to find how other areas are facing the future.
Made video diaries with the objective of educating the public with an authentic view of hill farming in the Lake District
Established a carcase disposal scheme in time for the 2008 lambing season
The carcase disposal scheme's progress was outlined by outgoing chairman Will Rawling who had been discussing the possibility of collection centres for easily handleable animals such as sheep and lambs with the State Veterinary Service over the busy period of lambing.
Non-registered agricultural land could be used with approval by the SVS and hunt kennels were a possible site with the background of hunt staff experience.
Following discussions with John Bogie, of Dumfries-based Dundas Chemicals, preliminary costings for a scheme administered by Cumbria Farmer Network involving non-agricultural sites had come up with a figure of £9 a head for collection for Farmer Network members – compared with the current £18 a head for individual collection.
Mr Rawling said the sites would be operated with strict biosecurity and he urged interested groups of farmers to contact him.

NFU Conference 2008 - Growing for Another Century


TFA Gives Essential On-Line Help With Farm Rent Reviews


NFU Calls for Government to Back Farming in 2008