Beef and Sheep Sector Called to Follow Dairy Lead
21/01/08
Beef and sheep sectors have been urged to follow the dairy industry's lead and offer specialist information events for college staff.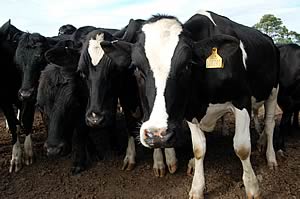 The call was made by Jonathan Clarke of Warwickshire College which last week hosted an agricultural lecturers day organised by the Royal Association of British Dairy Farmers and attracting 35 delegates representing 21 colleges located throughout the UK.

The event featured a series of presentations examining the latest challenges facing the dairy industry including those influencing its future genetics, nutrition and management. Training and skills requirements for the next generation of farmers also came under the microscope along with advice on how to engage young people in positive farm health planning.

"The dairy sector has led the way in providing college lecturers with up to date information to pass on directly to students," said Mr Clarke who heads Warwickshire College's agriculture and countryside management team. "Working in a busy college environment we frequently don't have the opportunity to hear about the latest issues, along with pipeline R&D and other cutting edge developments which we should be communicating to students. RABDF has filled this gap and I am calling on both beef and sheep sectors to follow suit."

RABDF chief executive, Nick Everington explained: "We carefully designed the programme to bring college lecturers up to speed with our very complex and ever changing sector. Judging from the feedback it not only helped to improve their knowledge, but also encouraged them to instill some enthusiasm for dairying into their college students, who are our future life blood."

The RABDF College Lecturers' Day was hosted by Moreton Morrell Centre, Moreton Hall with sponsorship from Warwickshire College and Defra Farm Health Planning.

New UK Sales Manager at Cogent


New Top Jersey and Ayrshire in Latest MDC Breeding+ Rankings


Value for Money Holstein Bulls from Bullsemen.com Dominate January Proofs