New UK Sales Manager at Cogent
20/01/08
Cogent is pleased to announce the promotion of Hugh Pocock to the position of UK Sales and Genetics Manager.


Hugh Pocock & Paul Baison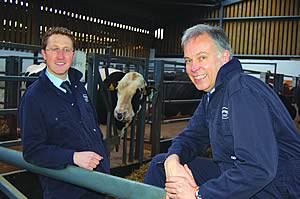 Hugh is a well-known and respected figure within the dairy industry and joined Cogent in 2001, where he has been head of Genetics for the last 2 years, following graduating with a Degree in Agriculture at Harper Adams Agricultural College. Hugh's main focus will be to develop and drive sales within the UK, he will take over the reins from Paul Baison who retires this summer.

Hugh has been involved with Holstein cattle for over 20 years. During this time he has judged in many countries, competed in numerous young breeder competitions locally and nationally, and been Shropshire Holstein Young Breeders' Coordinator. His knowledge of the breed and understanding of dairy farmers' needs, puts him in a ideal position to carry out this role.

He will continue to retain the overall responsibility for Cogent's bull portfolio and be further supported by Craig Davidson, Gretna, Dumfriesshire who joins Cogent on 11th February as Sire Analyst.

"I am very excited to be taking on this role and look forward to managing the UK Sales Team and helping deliver an excellent range of reliable UK proven sires to UK dairy farmers."

Hugh Can be contacted on 01244 622047 or 07789 171378.

New Top Jersey and Ayrshire in Latest MDC Breeding+ Rankings


Value for Money Holstein Bulls from Bullsemen.com Dominate January Proofs


New MDC Figures Keep Fitness Bulls On Top