Keelham Hall Prime Champions Coup at Skipton Christmas Shows
06/12/07
Both the champion and reserve champion prime cattle, along with the championship-winning prime lambs, were knocked down to the same buyer at the annual Christmas shows and sales at Skipton Auction Mart. (Mon, Dec 3)

Keith Downs is pictured, centre, with his Skipton 2007 Christmas prime beef champion, joined by judge, Hebden Bridge butcher Stephen Maskill, and Michael McKenzie, vice-chairman of Skipton Auction Mart.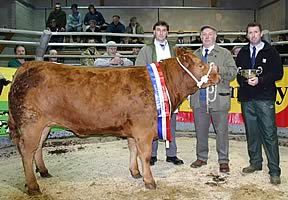 Keelham Hall Farm Shop at Thornton, near Bradford, embarked on the champions' buying spree, first paying £2,003 – 340p per kilo and top price of the day by far – for the 590kg supreme champion Limousin-cross heifer from Keith Downs, of Milner Field, Bingley.

Mr Downs was repeating his 2006 Skipton Christmas prime cattle championship success, when his Limousin-cross victor was also a Keelham Hall Farm Shop purchase.

This year, Mr Downs also presented the prime cattle reserve champion, a 540kg Limousin bullock and another Keelham Hall acquisition at £1,404 (£260p/kilo).

For good measure, Keelham Hall then went on to secure a rare across-the-card double when their Skipton buyer Nick Dalby secured the five-strong supreme champion pen of 42-kilo Beltex-cross prime lambs, exhibited by local vendor John Garnett, of Lane End Farm, Draughton, for £150 a head – again top price of the day.

Keelham Hall Farm Shop is run by brother and sister James and Victoria Robertshaw, who have often bought past Skipton champions and source all their prime lambs through the mart. In fact, they landed a champions day coup when also purchasing both the Christmas beef show victor and runner-up at Otley the same day.

Victoria Robertshaw explained: "Our whole ethos is to source only the very best animals from local markets in support of local producers. In this way, we can ensure total quality and full traceability, which is increasingly important when catering for our ever-expanding customer base.

"They demand the best – and we are happy to meet this requirement by going all the way and buying show champions. Our latest acquisitions will now be prepared in readiness for our customers' 2007 Christmas tables."

Keith Down's title-winner received the Alf Lister Trophy, along with a special award from the Yorkshire Agricultural Society for the top-priced per kilo Yorkshire-bred and exhibited animal. A second YOS award recipient was Skipton regular Brian Lund, of Walshaw, Hebden Bridge.

There were other notable performances in both the cattle and sheep classes, where quality stock was once again in considerable demand as butcher buyers or their ringside representatives sourced the region's prime beef and lamb for festive season consumption.

Best of the Continental cattle in the culled cows section was a 700-kilo Belgian Blue from Ken Gamble, of Thorpe, sold locally for £693 (99p/kilo) to John Thompson, of Gargrave. The top-priced black and white cow from John Whittaker, of Laneshawbridge, made 68p per kilo when claimed by Wakefield-based Kepak.

In the sheep classes, the reserve champions – best of the hill and horned sheep entries – were a pen of five 53-kilo Masham Wether lambs shown by Nidderdale exhibitor David Verity, of W & R Verity & Sons, of Grange Farm, Bouthwaite, Ramsgill. They sold at £90 apiece to show judge James Dewhirst, of Skipton-based Stanforths Butchers.

The Masham classes were sponsored to the tune of £200 by Skipton regular Les Thackray, of Mickley, Ripon, with both vendors and purchasers benefiting from his generosity.

Best of the Texels for the second year in succession was a pen of five 46-kilo lambs from Richard and Patsy Hodgson, of Scale Hill Farm, Skipton, sold for £58 a head. Another Skipton exhibitor, Geoff Lawn, saw his first prize 51-kilo Suffolks go on to sell for £41 each.

The mules class was sponsored by the Skipton branch of the North of England Mule Sheep Association, with chairman Ashley Caton presenting the trophy to Eileen Addyman, of Hagg Farm, Skipton, on behalf of husband John. Their 53-kilo charges sold for £37.50 per head.

Roy Nelson, of Bordley, exhibited the top Swaledales, a 51-kilo pen that made £42 each, while David Verity also chipped in with the best Dalesbreds, a 38-kilo pen sold for £29 each.

Of the other hill breeds, Helmsley-based D Farrington's 44-kilo first prize Cheviots went for £35 apiece. In the ewe classes, Roy Nelson's first prize Swaledales sold for £24, the same prize achieved by Michael McKenzie, of Arncliffe, with his prize-winning mules. Anthony Thompson, of Foulridge, saw his pen of Suffolk ewes head the Continentals class at £41.50 a head.

Other show sponsors were the Kingsway Veterinary Group, Farmway, F Reeday & Son Trailer Services, and Fearing Tags.

Pickervance Top Pick at Skipton Texel Females Sale


Bill's Belgian Blue Baby Lands Skipton Calves Title


Christmas Craven Dairy Auction Sets Yet Another Record Price