Christmas Craven Dairy Auction Sets Yet Another Record Price
20/11/07
Christmas came early for the region's dairy farmers when some notable selling prices – including yet another new top price record of £2,050 for the champion - were again achieved at the monthly Craven Dairy Auction at Skipton Auction Mart. (Mon, Nov 19)
The Christmas Craven Dairy Auction record price champion takes centre stage with, from left, Tony Allanson, of sponsors Farmers & Mercantile, judge Jimmy Hull, Ian Lindsay, of BOCM Pauls, exhibitor Robert Phillip, and Jessica Wallbank, of main sponsors Dugdale Nutrition.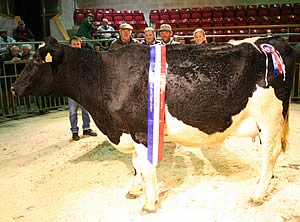 The fixture, which never fails to attract high quality animals, has proved an undoubted highlight in a year of very mixed fortunes in the UK agricultural sector and has now grown to become one of the premier dairy sales in the country.

Robert Phillip, of Green Farm, Hellifield, secured his third Craven Dairy Auction championship success with a home-bred newly-calven pedigree Holstein Friesian heifer giving 30kg by Comestar Stormatic.

Judged champion by Garstang dairy farmer Jimmy Hull and receiving both the BOCM Pauls Dairy Cup and Craven Cattle Marts Trophy, plus a £60 cash bonus from Farmers & Mercantile, of Boroughbridge, the victor established a new modern-day mart record price when bought by Andrew Bradley, of Ryedale, to further boost his 230-head commercial Holstein Friesian herd.

Mr Bradley also purchased the title winner at last month's opening Craven Dairy Auction, while another regular Skipton dairy purchaser, G Parker, of Emley, Huddersfield, matched the then record price of £2,020 he paid for the title-winner at the second October dairy auction when snapping up this month's reserve champion – the first prize newly-calven cow from Malcolm and Robert Swires, of Haverah Park, Harrogate.

The Christmas Craven Dairy Auction, sponsored by Dugdale Nutrition, of Clitheroe, attracted a robust 60-strong entry, competing for a total of four trophies and £700 in prize money.

Jerseys also sold well and figured among the trophies when a December-due heifer from Richard Saxby, of Coniston Cold, was chosen as the best in-calf heifer and received the Frank Wade Perpetual Challenge Trophy, selling for £1,130 to Aubrey Greenhalgh, of Elswick, Preston.

Mr Saxby did even better with a newly-calven Jersey cow, "Saxown Excaliber Judy," which in 2006 was the second-placed in-calf heifer at the Great Yorkshire Show and reserve champion at Gargrave Show. The second calver made £1,260 when sold to East Yorkshire purchasers HM & JR Roe.

Newly-calven heifers averaged a healthy £1,659, with newly-calven cows also selling well at an average of £1,559. Maiden heifers, too, were in big demand, with 14 to 16-month-old entrants selling to £710 (av £643) and five to ten-month-olds to £590 (£501)

The last Craven Dairy Auction of the year takes place on Monday, December 17.

Belgian Blue Youngster Awarded Skipton Title


Selective Bidding for British Blues at Carlisle


Lambert Shearling Ram Again Champion at Skipton Dalesbred Show