Bill's Belgian Blue Baby Lands Skipton Calves Title
28/11/07
A five-week-old Belgian Blue-cross youngster from Bill Pinder, of Longstripes Farm, Newton-in-Bowland was champion at the annual Christmas calves show at Skipton Auction Mart. (Mon, Nov 27)
The 2007 Skipton Christmas calves champion strikes a pose in the sales ring as exhibitor Bill Pinder, second from right, is congratulated by judge Paul Drinkall. Also pictured are sponsors Mark Platts and Nicola Worsley.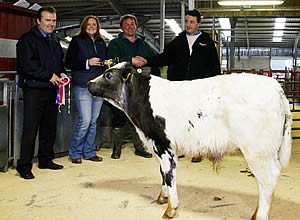 One of 121 calves stepping forward for the fixture, the title winner also topped the selling prices in the show classes at £240 when knocked down to Lincolnshire buyer Michael Fane, who was purchasing the Skipton victor for the third year in succession.

He then went on to pay £232 for the reserve champion, a Limousin bull calf from Richard Spence, of Low Jack Field Farm, Sutton-in-Craven, who also presented the runner-up last year.

Top call in the sale at £246 went to a Belgian Blue bull calf not entered in the show from N Jennings & Sons, of Cowling.

The first prize and top price Belgian Blue heifer from James Wellock, of Eshton, was bought for £188 by show judge and near neighbour Paul Drinkall, of Gargrave, who also paid a class-topping price of £162 for a Limousin heifer from Richard Spence.

D & J Herd, of Hebden, had the best Charolais bull calf, sold for £200 to Peter Lambert, of Leyburn, while in the native breeds section an Aberdeen Angus bull from David Smith, of Sutton-in-Craven, also caught the eye of Michael Fane at £197.

An Angus heifer calf from Mrs W A Brown, of Earby, sold for £68 to Miss S J Illingworth, of Queensbury, while a black and white bull calf shown by Colin Whitelock, of Gargrave, found a new home on the east coast when purchased for £122 by Whitby-based R E Stainthorpe.

The show had dual sponsors in J Hatton Agriculture, of Skipton, represented by Nicola Worsley, and Norbrook Pharmaceuticals, of Carlisle, whose regional representative Mark Platts was in attendance.

Skipton vendors and purchasers can now look forward to "Craven's Prime Christmas" - the annual festive shows and sales of prime cattle and prime lambs, on Monday, December 3, when a total of four trophies and £300 in prize money will be on offer.

Christmas Craven Dairy Auction Sets Yet Another Record Price


Belgian Blue Youngster Awarded Skipton Title


Selective Bidding for British Blues at Carlisle