Leading Scottish Contactor Standardises on New Holland
07/12/07
The benefits of standardising on New Holland T6000 and T7000 tractors have enabled leading Scottish farmer and contractor David Carnegie to run his business more efficiently.
David Carnegie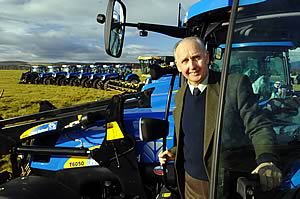 His new fleet of tractors was chosen for its performance and reliability, but by focusing on specific models, Mr Carnegie hopes to improve the flexibility of his operation.
"It is essential that the tractors perform well," said Mr Carnegie "and by keeping to two models, the operators do not need to learn differing cab layouts and tractor controls, our parts and maintenance support is simplified and we don't need to carry a range of pto shafts to operate the implements. This makes life easier for the drivers and the whole operation is more efficient and more flexible."
Mr Carnegie farms more than 2000 acres, and rents a further 500 acres, with his two brothers, son and two nephews near Laurencekirk on Scotland's east coast. In addition to its own land, DM Carnegie Ltd also supplies a full range of cultivation and harvesting contract services to local farmers. The new fleet of 10 T7030 tractors have been specified with a range of tyre sizes, including wide flotation widths for drilling and narrow widths for ploughing and row crop work, such as spraying. Four T6050 tractors, two fitted with front loaders, complete the fleet upgrade.
"The commitment to go with New Holland wasn't taken lightly. I visited New Holland's production plant last autumn, and I was impressed with the development work that has gone into the new T7000, and that the T6000 is built upon the proven TS-A.
"We chose six-cylinder models across the board, increasing the overall power and capacity of our fleet. Again, this gives us greater flexibility and simplifies servicing requirements, and all machines were specified with a five year warranty," explained Mr Carnegie.
Each of the new tractors feature electro-hydraulic remote valves, IntelliView™ II monitor and ISOBUS network to allow the tractors to work seamlessly with the farm's range of trailed and mounted implements. IntelliView II supports GPS and auto-guidance capabilities enabling New Holland's Precision Farming programme to be easily incorporated. The ISOBUS-compliant monitor allows tractor and implement information to be conveniently presented in one place.
DM Carnegie Ltd also purchased a CR9080 rotary combine, further extending the integrated approach the business is taking. "The CR9080 impressed us with its capacity and its reliability," said Mr Carnegie. "We ran the machine head-to-head with the competition and its performance convinced us to buy."

Landini Tractor Helps Novices Develop their Ploughing Skills


Top Bid Wins Historic McCormick Tractor in On-line Auction


European Award for Landini Rex Tractor