Top Bid Wins Historic McCormick Tractor in On-line Auction
05/12/07
Agricultural engineer Stephen Haylock has bought a piece of tractor manufacturing history with his auction-winning bid for the last McCormick CX tractor to be built at the company's Doncaster assembly plant.
McCormick sales director Jeremy Lamb (left) presents Stephen Haylock with a certificate confirming the status of the McCormick CX105 XtraShift he bought at auction as the final Doncaster-built example of this model.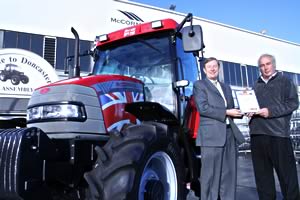 Mr Haylock, whose online bid of £31,700 was placed in the final seconds of the auction, was keen to buy the tractor not just for its historic significance but because of his own association with its predecessors and the South Yorkshire tractor factory.
"I've worked with International Harvester, McCormick and Case IH tractors from Doncaster all my life, having started as a dealer's apprentice service engineer in the late 1960s," he explains. "In that time, I visited the Doncaster plant several times for training courses, so I feel a close association with its history and the tractors it's produced over the past 60 years."
With production of the popular CX and other McCormick tractors now transferred to a parent group plant in Italy, the Doncaster facility is being closed.
Product specialist Paul Wade took Stephen Haylock, his wife Caroline and son Matt on a final tour of the factory, which produced its first tractor, an International McCormick Farmall Model 'M' in 1949. They were accompanied by Matt Boreham and George Beckwith from the Haylock's local McCormick dealer, R C Boreham & Son, Pleshey near Chelmsford, Essex.
At the end of the tour, Mr Haylock was presented with his tractor, a McCormick CX105 XtraShift, resplendent in its familiar red and silver colour scheme but with the addition of Union Jack decals on the bonnet declaring: The final British-built CX – July 2007. Doncaster – Driven with Pride – 1946-2007.
"I can't believe it's mine; this is a special tractor and a very special moment for me," he said.
McCormick sales director Jeremy Lamb, who also handed over a certificate authenticating the tractor, is delighted that it has been bought by someone who will appreciate it.
"We wanted to mark this latest chapter in the Doncaster plant's story in a special way because of the great respect people have for its role over the past 60 years," he says. "There's no better way to celebrate than for this special tractor to be purchased by someone to whom it means a great deal."
Unlike all the other tractors that preceded it down the Doncaster plant's assembly line, the final UK-built CX is destined for a leisurely existence. It will become a prime exhibit in the Haylock family's private collection, maintained on their Cambridgeshire farm, which includes a 2006 McCormick CX105 Diamond Edition and a 1952 International Harvester Farmall 'Coronation' special.
McCormick is donating £10,700 from the proceeds of the auction to the Queen Elizabeth's Foundation, which encourages adults with disabilities to improve their life skills and increase their independence through training and specialised support.

European Award for Landini Rex Tractor


Case IH Rolls Out New Round Balers


John Deere 7050 Series Self-Propelled Foragers Offer Intelligent Solutions