European Award for Landini Rex Tractor
27/11/07
The Landini Rex 85S has been crowned 'Tractor of the Year 2008' in the category for specialised tractors at the Agritechnica exhibition in Germany.
The Landini Rex tractor, winner of the specialized category European 'Tractor of the Year 2008' award, on display at the Agritechnica exhibition.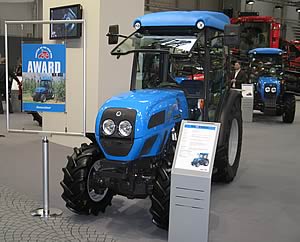 Presented by a judging panel of farm machinery specialists from 20 countries across Europe, the award is recognised within the agricultural engineering industry as one of the most prestigious and closely contested of all the accolades that a tractor design can win.
The award is made following practical driving appraisals and an assessment of design features and benefits.
"The International jury for the Tractor of the Year Award praised the new Rex 85S for its impressive mechanical specification and compact size, which is enhanced by the rounded hood and fender designs," says Adrian Winnett, Landini UK sales manager. "In particular, the judges highlighted the versatility of the three-range transmission and the powerful output of the hydraulics system for a tractor of this size."
The Rex 85S is representative of a popular range of specialist tractors produced by Landini, which comprises the ultra-narrow 'V' vineyard models, the new extra-slim 'S' range for work in narrow-row orchards, and the 'F' and 'GT' models for conventional orchards.
Overall width of the Rex 'S' tractors can be reduced to just 1.25m (4ft 3in) and there are three power output options of 68hp, 75hp and 82hp.
The robust 'F' and 'GT' versions of the Rex are a little larger and can be had with seven different power outputs from 59hp to 99hp. They are the models most popular with British soft- and top-fruit growers and also make a good general-purpose tractor for small farms, horticultural units and groundcare operations.
The tractors use either a three-cylinder engine, which results in a short ultra-manoeuvrable design, or a four-cylinder engine with standard or longer wheelbase for a bit more stability when handling rear-mounted implements.
All Landini's specialist tractors are produced in a new state-of-the-art factory at Luzzara in Italy opened earlier this year. Apart from improving production efficiency and raising quality standards still further, this significant investment demonstrates Landini's commitment to the specialist tractor sector.
In Britain, the award-winning machines are distributed through a national network of dealers who can help growers choose the best individual model for different soft and top fruit production systems before backing any purchases with first-class service and parts support.

Case IH Rolls Out New Round Balers


John Deere 7050 Series Self-Propelled Foragers Offer Intelligent Solutions


Thomas Equipment Appoints Petter M. Etholm President & CEO