David Dickinson - Gifted Auctioneer and Stockman
15/11/07 - Obituary
David Dickinson, the livestock auctioneer whose gavel fell on leading priced pedigree beef and sheep in the UK, died on Friday 9th November 2007, aged 52.
David Dickinson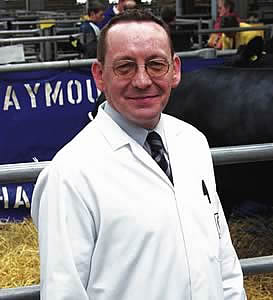 Tributes have been made by friends and colleagues across the country's agricultural community to David, who was found at his home in Denton Holme, Carlisle on Friday morning.
He was known to the agricultural community across the UK through his work as an auctioneer and his expert knowledge of pedigree livestock and he had been selling cattle within a few days of his death.
He began working for Harrison & Hetherington in July 1972 as an office boy and he was one of the few still working for the company who were involved when it ran its old mart in Botchergate in the city centre before moving to Borderway in 1974.
Working through the ranks and qualifying as an auctioneer after several years' service, he began to specialise in selling pedigree beef cattle and sheep as well as motor vehicles.
He was the company's auctioneer for Aberdeen Angus, British Blue and Charolais cattle as well as Texel and Beltex sheep, developing an in-depth knowledge of the breeds and being held in very high regard by all those involved in the industry.
David sold many leading priced animals at Borderway, including the Texel ram lamb which made 110,000gns in 2006 as well as record-priced beef cattle.
He was one of the founding members and the first secretary of the Solway and Tyne Texel Breeders' Club 25 years ago and he was the club's chairman when he died.
A breeder of Angus and Texels when his father Robert ran the Smiths Arms at Marketgate, Ivegill, Carlisle, he also judged at many shows and events across the country.
Probably his most memorable time was when he had tea with the Queen Mother at Castle of Mey in the north of Scotland where she kept a herd of Aberdeen Angus cattle. David would auction her cattle at sales and she asked him if he would give her his opinion of her herd.
"David was tremendously loyal, a gifted stocksman as well as an excellent auctioneer," said auctioneer David Thomlinson who had worked alongside David throughout his career and who was also a good friend.
"His abilities were very much respected by everyone. He could communicate with people from all walks of life.
"His work was his life. He was a very private person."
H&H Group chief executive Trevor Hebdon said: "David will be a huge loss to our farmstock business; his true professionalism and deep understanding of pedigree livestock will be sorely missed by his colleagues and the very many clients for whom he has acted over the years."
Aberdeen Angus Society chief executive Ron McHattie said: "David bred Aberdeen Angus cattle and, with no disrespect to any other auctioneer, he was the one who knew the pedigrees and he was such an enthusiast for the breed.
"He was always extremely helpful and people respected him for his knowledge of the breed. There was many a herd started in the north of England and south west Scotland as a result of David's enthusiasm."
The Solway and Tyne's current president and original secretary of the Texel society, Sandy Grant, of Lochmaben, well remembers David's input into the club as its first secretary. Sandy Grant was its original chairman.
"I remember our first meeting in the H&H boardroom where we discussed the potential of having a sale which subsequently developed into a two day event at the beginning of September at Borderway. He was a great asset to the club and that he was made a vice-president was some estimation of his contribution to it.
"A combination of his tremendous knowledge and expertise in organising events such as the club's 25th anniversary ceremony was very much appreciated by us all."
Steven Mclean, chief executive of the Texel society, said: "Apart from David being one of the breed's leading auctioneers he was a very important individual in the Texel world.
"He was known the length and breadth of the country. As chairman of one of our 19 clubs reflects the honour and that he was held in the highest esteem, particularly as the Solway and Tyne club is very strong."
David was the official British Blue auctioneer at Borderway for nearly two decades and was very dedicated to the breed, selling a number of the breed record priced animals at Borderway and gained a number of dispersal and reduction sales at Carlisle because of his experience and knowledge of the breed.
Border club president Brian Wheatley, of Penrith, said: "David was well respected within the breed and by members of the Border Club, where he was often called upon for advice.
"We are glad he was still with us only last week to sell at our annual autumn show and sale. David will be dearly missed by us all and it will be hard to find a pedigree auctioneer as committed and well respected as David who was an exceptional character and we were privileged to have known and worked closely with him promoting the British Blue breed in the Border area."
David was also secretary of the Cumbria Association of Livestock Auctioneers.
He is survived by brother Alan, of Wreay, Alan's wife Ann, nephew Duane and his wife Kim and their children Shannan and Kieren, and nephew Aaron and his partner Emma and their children, Caitlin and Jessica.
The funeral was held on Thursday November 22 at Christ Church, Ivegill, followed by interment.

Selective Bidding for British Blues at Carlisle


Radieuse Breaks Belgian Blue Breed Record at Carlisle


Haddo Neptune Flys High at Carlisle Texel Sheep Sale