20/11/07

Five Aberdeen-Angus bulls sold for the top price of 10,000gns on the opening day of the autumn bull sales week at Perth on Monday 12th November.

Netherton Missie A114 sold for the top price – and a new breed record for a female – of 30,000gns
© www.nethertonangus.co.uk/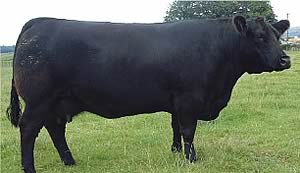 Trade held up remarkably well against the background of the recent foot-and-mouth disease restrictions and ongoing blue tongue crisis and 60 bulls were traded compared with only 36 a year ago.
The overall average, however, fell by £777 to £3621 against £4398 in 2006.
But it was the females which stole the show later in the day when a cow in W and D McLaren's Matron's Sale from Netherton, Blackford, Perthshire, sold for a new breed record price for a female of 30,000gns.
Northern Ireland judge, Alwyn Armour, 75 Begny Hill Road, Dromara, Dromore, Co Down, was impressed with the cattle paraded before him.
"It was a good level show of bulls," said Mr Armour. "I was paying particular attention to mobility which is very important but I was also looking for size and shape."
He said his champion was "correct on all respects" with tremendous character, depth of body and loin and a strong head.
The bull, Balmachie Franco F023, a 19 month old ET son of Netherton Kiwi Sam A141 (a son of the 16,000gns cow, Kim of Fordafourie), was shown by John Laascelles and his son, also John, from Balmachie, Carnoustie, Angus, who were stepping up from reserve position last year. Their champion went on to sell for 10,000gns to David Walker, Galcantray, Nairn.
Standing reserve for both the supreme and junior championships was the 18 month old, Idvies Junior Eric F286, by the 28,000gns Jeremy Eric of Bridgefoot, from F J Fraser and Son, Newton of Idvies, Forfar, Angus. This bull also realised 10,000gns to Robert McNeill, Kincardine Castle, Auchterarder, Perthshire.
The sale got off to a great start with the second animal in the ring attracting the first 10,000gns bid. This was the unshown two year old bull, Drumdow Elgar E286, by The Moss Passionate Z010, from W and E I Brown, Laigh Drumdow, Turnberry, Ayrshire. The successful bidder was Sandy Haggart, Muirmouth, Madderty, Crieff.
This was followed shortly afterwards with another 10,000gns bid made by George Muir, Gorn, Shapinsay, Orkney, for the fifth prize, Haymount Wavuzzo E601, by Lockerley Kruz Z310, from J and W Arnott, Haymount, Kelso, Roxburghshire.
Later in the sale, a first prize junior bull, Rawburn Rock Solid F544, by Hoff Limited Edition SC 594, exhibited by John Elliot, Roxburgh Mains, Kelso, realised the fifth 10,000gns price when sold to Glympton Estate, Woodstock, Oxford.
Haymount also sold a second prize bull by the Lockerley sire, Haymount Girazzo E596, at 7000gns to Terry Coghill, Muce, Birsay, Orkney, and the same price was obtained by E A and M C Jones, Paulsland House, Rull Lane, Cullompton Devon, for the senior champion, Rull Evitus F052, a 21 month old son of Rawburn Transformer F052, to John Walker and Son, Sauchenbush, Echt, Aberdeenshire. This bull was breed champion at the Royal Show in the summer.
In a remarkable trade for Netherton females, the six year old cow, Netherton Missie A114, by Netherton Fabulous Cruz Y300, sold for the top price – and a new breed record for a female – of 30,000gns to John Lascelles.
Leading buyers were Dunira Estates, Comrie, Perthshire, whose top bid was 12,000gns for the five year old cow, Netherton Blackbird B172, by Netherton Lord Jock Z005. A new herd is being founded at Dunira which was home to a famous herd in the 1930's.
Third top price was 10,000gns for the five year old, Netherton Fleur B199, by Dalrene Cruz 11F, to Dr Michael Sheahan, Luddenmore, Grange, Kiolmalock, Co Limerick, who also paid 6500gns for the five year old, Netherton Flora B162, by the New Zealand sire, Ranui W Impact 762.
The 16 females in the Netherton sale grossed £108,000 to average £6805.
In the collective sale of females, top price was 10,000gns for the four year old cow, Mosston Muir Jennifer Erica C060, by Mosston Muir Lord Rennie A021, from Tom Rennie, Mosston Muir, Forfar, Angus, whose herd is the current Aberdeen-Angus Show Herd of theYear.
The buyer was Mr Foster, Bunker Hill Farm, Hook, Hants, who also paid 5000gns for six month old heifer calf by Warrenho Emperor D141.
The champion female, Cardona Black Barbara E340, a two year old daughter of Lockerley Eastern Cruz A093 from John Henderson, 50 Ballyheather Road, Strabane, Co Tyrone, sold for 3200gns to Dr Neil Ainsworth, Little Billinge, Scar Farm, Carr Lane, Blackburn, Lancs.
The reserve, Muirhall Gastura F034, by Hayrish Paragon Cruz A009, from Bill and Sarah Reid, Uppermuirhall Farm, Kinfauns, Perth, sold for the top price in the show cattle of 4800gns to Mr Henderson, Culrain Mains, Ross-shire.
Auctioneers: United Auctions

Brisk Trade for Best of Blacks in the Borders


Breed Data Highlights National Herd Changes


Beef Producers Pledge Allegiance to Charolais