Stockdales Swoop at Skipton Swaledale Rams Show
25/10/07
A four-shear aged ram from JW Stockdale & Sons, of Oat Croft Farm, Burnsall, proved championship material at the annual evening show and sale of 46 Swaledale rams at Skipton Auction Mart. (Mon, Oct 22)

John Stockdale and his son Adam with their Skipton Swaledale ram champion.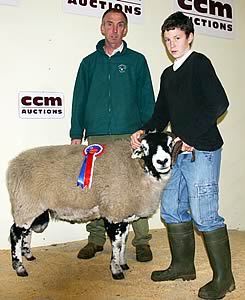 Shown by Richard Stockdale and his 15-year-old son Adam, a pupil at Upper Wharfedale School, the title winner was described as "very true to breed" by father-and-son show judges George and James Huck, of Austwick.

By a Marwood sire and bred locally by Messrs Ellis, of Addingham, the ram was bought as a shearling three years ago and has since stamped his progeny on the Stockdales' stock of sheep.

They have a policy of selling on aged tups and saw the victor, awarded the Robert Young Perpetual Challenge Trophy as champion and the Stephen HK Butcher Trophy as class winner, purchased for 150 guineas by JC Walker & Sons, Dunsop Bridge.

For the second year running, the first prize shearling ram and reserve show champion, awarded the M&K Spensley Trophy, was exhibited by Roy Nelson, of C Nelson & Sons, Lainger House, Bordley, selling for 400 guineas to SE Lord, of Roeburndale, Lancaster.

Mr Nelson also had the fourth prize shearling ram, which joined V Verity & Son at West End, Blubberhouses, for 260 guineas.

Top price in show fell to an aged ram presented by John Stephenson, of Bordley Green Farm, Bordley, bought for 500 guineas by AC Ward & Partners, of Grantley, Ripon.

Shearling rams averaged £128 and aged rams £141.

Bordley Bonanza at Skipton Swaledales Show


Tophill Texel Tops at Skipton Breeders Show


Malham Moor Double at Skipton NEMSA Show 2007


Skipton Multi-Breeds Rams and Females Show 2007