Bordley Bonanza at Skipton Swaledales Show
24/10/07
Local sheep farmers from Bordley netted a supreme and reserve championship double at the annual prize show and sale of almost 3,500 Swaledale shearlings and correct ewes at Skipton Auction Mart. (Sat, Oct 20)
John Stephenson, right, with his Skipton Swaledales champions, joined by show judges Kevin Wilson, left, of Blubberhouses, and Geoff Throup, of Silsden.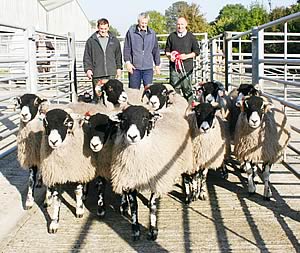 John Stephenson, of Bordley Green Farm, saw his best pen of ten shearlings go on to take the overall title, selling for the show-topping price of £92 per head to J Milman, of Horton-in-Ribblesdale, Settle.

Reserve champions and first prize shearling ewes were presented by Roy Nelson, of Lainger House, achieving top price in class when bought for £69 each by co-judge Geoff Throup, of Silsden.

Shearlings averaged £47.63 a head, with two-shear ewes selling to £66 (av £45.78), three-shear to £61 (£46.78) and four shear to £69 (£34.21)

A rearranged sale of commercial rams on behalf of the British Charollais Sheep Society was also held on the same day and the 110 sheep forward included a dispersal sale on behalf of the Blackpool flock of JD& A Loftus.

A Loftus shearling ewe made top price of 305 guineas when sold to D Holmes, of Longton, Preston, with a two-shear ram from the same holding also making 300 guineas when bought by DJ Dickinson, of Haverthwaite, Ulverston.

Tophill Texel Tops at Skipton Breeders Show


Malham Moor Double at Skipton NEMSA Show 2007


Skipton Multi-Breeds Rams and Females Show 2007


Skipton Wensleydales Annual Show