Malham Moor Double at Skipton NEMSA Show
21/10/07
Mule gimmer lambs from Malham Moor swooped down from the hills to plunder the spoils in both championship classes at the second annual North of England Mule Sheep Association (NEMSA) show and sale at Skipton Auction Mart. (Wed, Oct 17)
James Hall receives the Skipton NEMSA 10's Mule gimmer champions trophy from co-judge Margaret Watkinson.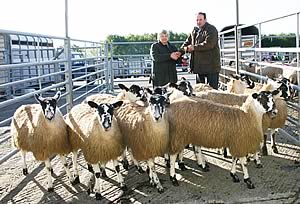 James Hall, of Darnbrook Farm, emerged victorious in the pen of 10's class to receive the J Marsden Perpetual Trophy – his second NEMSA championship success. Malham lambs were also responsible for the top price in class when Neil Heseltine's second prize pen was bought for £94 per head by show co-judge Margaret Watkinson, of Sessay, Thirsk, who adjudicated with Peter Fox, of Withgill.

Mr Hall's near neighbour, Alan Lodge, of Westside Farm, landed the spoils in the 20's class, receiving the WCF Perpetual Trophy courtesy of judges Georgina Beecroft, of Killinghall, Harrogate, and Tony England, from South Molton, Devon.

Alan and his son Gary, who were at Skipton to sell the last 80 of their 800-strong consignment of lambs this season, saw their victors bought locally for top price in class at £88 each by Robert Greenwood, of West Marton.

Kenneth Throup, of Silsden Moor, sold his third prize pen of 10s at £77 per head, while the third prize pen from John Mason, of Embsay, made £77 each.

The overall average price of the 5,890 lambs forward was £43.27 per head, which, under current trading conditions, was in general deemed acceptable when compared to last year's show average of £47.50.

Organised by the Skipton branch of NEMSA, the show was sponsored by Pearson Farm Supplies, of West Marton, who also supported last month's opening fixture.

Skipton Multi-Breeds Rams and Females Show 2007


Skipton Wensleydales Annual Show


Jacobs Boost Skipton Rare and Native Breeds Fixture


Dales Victory at Skipton Masham Wethers Show