Sainsbury's Woodland Eggs Wins International Marketing Award 25/10/07
Sainsbury's Woodland Eggs scooped the International Marketing Excellence Egg Award at a presentation held in Budapest in September.
Awarded annually, by the International Egg Commission, the Sainsbury's Woodland Eggs brand was deemed to have successfully displayed great strategy and creativity, and above all delivered fantastic results for farmers, hens and customers.
Commenting on the success as he received the award, Andrew Joret, technical director for Noble Foods who developed the Woodland Eggs brand with Sainsbury's, said: "This is a fantastic award and demonstrates British Egg marketing at its best. Woodland Eggs has established itself as a unique brand delivering happier hens, happier farmers and a greener environment for all."
Woodland Eggs was launched by Sainsbury's and its egg supplier, Noble Foods, in 2004 following feedback from their free-range egg producer John Widdowson on the behavioural benefits of a tree planted environment for hens. Chickens are descended from jungle fowl and are therefore instinctively much happier spending time in the shade of trees and hedges, dust bathing and foraging as their ancestors did.
Since its launch, the brand has formed a successful partnership with the Woodland Trust, the UK's leading woodland conservation charity, to date, the charity has received more than £150,000 to help fund tree planting projects throughout the country. This is a crucial step as the UK is currently one of the least wooded countries in Europe, with just 12% woodland cover.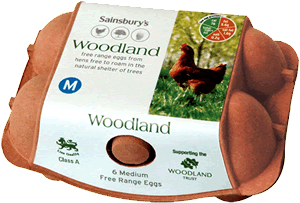 Sue Holden, chief executive of the Woodland Trust, adds: "Congratulations go to Woodland Eggs for achieving the International Marketing Excellence Award. The partnership is very important to us - helping to fund important tree planting projects throughout the UK. It's a shining example of how organisations can work together in a very positive way."
Farmers also benefit from the brand by being members of the Federation of Woodland Egg Producers, which aims to forge closer links with Sainsbury's. All Woodland farmers receive a price premium, to compensate for the tree maintenance and additional welfare standards, thanks to a £1 million investment by Sainsbury's and Noble Foods.
Today, nearly 2 million hens on 134 farms enjoy a woodland environment and produce Woodland Eggs. Sainsbury's has recently rolled out the range across all stores in Britain and the brand has replaced the majority of own label lines leading to increased sales of the brand and additional income for producers.
Michael Hodgson, head of dairy "Making a positive difference and being a responsible business is at the heart of everything we do at Sainsbury's and we're thrilled that our Woodland Eggs brand has been recognised with a prestigious international award. We, like our customers, are committed to the highest standards of animal welfare and we have great plans to expand the range further in 2007/08."

Demand Encourages More Woodland Free Range Egg Producers


FSA Must Look at Retail Display to Reduce Country of Origin Confusion


Autumn Lamb Takes Centre Stage In New Vodcasts