Country Fare Thrives on Local Sourcing
15/10/07
Back in 1998, farmer's wife, Dianne Halliday decided to help supplement income on the traditional hill unit she runs with her husband, Tony based Dalefoot Farm, Mallerstang, near Kirkby Stephen.
Mallerstang based supplier, Dianne Halliday of Country Fare with Plumgarth's John Geldard, ASDA's Sally Hopson and Sir Don Curry.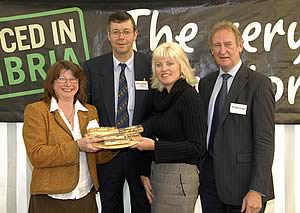 Baking came naturally. Dianne began a small 'production line' working from the family's farmhouse kitchen table using tried and tested recipes passed down through the generations.
Since then the business, Country Fare, has grown to the extent that she has just completed her third expansion, converting another traditional stone barn enabling her to double up the bakery area and extend the packing facilities.
Dianne's 10-strong team comprises nearby farmers' wives and daughters, and her prize winning cakes are made with locally sourced ingredients using recipes she inherited from her grandmother. They include mouthwatering tiffin, gingerbread and butter scotch shortbread.
She says the Plumgarths ASDA local sourcing initiative has introduced stability to the business, an order is placed on a weekly basis throughout the year supported by a helpful, friendly service.
She also says she appreciates the concept of bringing high quality locally sourced product to the supermarket floor.
The business has already received a number of accolades.
In 2002 it was awarded Best Expanding Business from the Rural Women's Networks aswell as runners up in the National Farmers Union Farm Diversification Awards. Other achievements have been at the Great Taste Awards in London.
The business has also been featured by TV chefs Rik Stein and Jamie Oliver.

Prince of Wales's Initiative for North Shields's Fishermen


Plumgarths Asda Local Sourcing Initiative Lead


Demand Encourages More Woodland Free Range Egg Producers