Prince of Wales's Initiative for North Shields's Fishermen
09/10/07
On Saturday, 6th October, over 1000 people attended the 'Ready, Steady, Fish!' event at the Fish Quay in North Shields to launch a project to help secure the long-term sustainability of the local fishing communities.
Anthony Heath, Head Chef at Pump House Restaurant, preparing locally landed fish.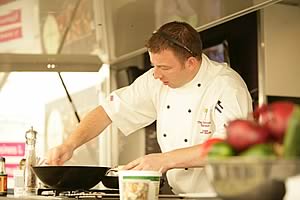 The project, which was inspired by HRH The Prince of Wales and his interest in our domestic food production, was hosted by Business in the Community, one of the Prince's charities.
The action-packed day began at 11.30am with Head Chef at the Pump House restaurant, Anthony Heath, demonstrating techniques to prepare locally caught fish for delicious family meals. Local food producers were present selling a range of products from rapeseed oil to whisky and visitors could pick up discounts for local restaurants and retailers. The local fish filleting school demonstrated the skills they teach to maintain the local fish filleting trade, whilst the RNLI opened their station for the day for visitors to explore. For younger visitors there was the perfect combination of fish-focused educational activities as well as face painting, a bouncy castle and balloon modeling. Local MP Alan Campbell joined crowds at the Fish Quay and commented on the importance of supporting the local fishing industry.
The project will examine how the fishing communities in the North Shields area can ensure the sustainability of their industry. At present, research is being conducted into the areas of greatest need; thereafter recommendations will be presented for practical measures to help the local fishermen operate most effectively in today's competitive food market.
In 2008, Business in the Community will host a 'Seeing is Believing' visit for senior business leaders to tour the Fish Quay with HRH The Prince of Wales and discuss the problems faced by the industry with local fishermen. It is anticipated that those business leaders, which will include representatives from some of the UK's largest food retailers, will suggest ways in which the fishermen can improve their access to major supermarkets and market their products.

Plumgarths Asda Local Sourcing Initiative Lead


Demand Encourages More Woodland Free Range Egg Producers


Field-to-Plate Cutting Down on Food Miles