Field-to-Plate Cutting Down on Food Miles
05/09/07
Nicholsons Butchers in Whitley Bay continues to forge and cement pioneering field-to-plate partnerships with local farmers.
Developing local supplier partnerships. Whitley Bay butcher Doug Nicholson is pictured with some of the Aberdeen-Angus cattle he sources locally from Ponteland farmer Gordon Meek.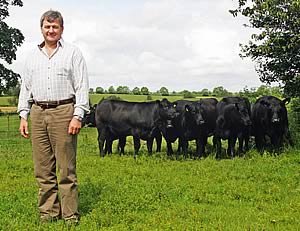 "It's all about keeping down food miles and helping to boost local economies and communities by encouraging people to produce and purchase food locally. We are fully committed to this ethos," comments Doug Nicholson, owner of the Park View shop.
Nicholsons is currently developing its supply partnership with local beef and sheep producer Gordon Meek, who farms 400 acres at nearby Eland Hall, Ponteland, taking regular supplies of pedigree Aberdeen-Angus beef when available.
Gordon originally sourced these renowned beef animals through suckled calf sales in Oban, Scotland, last autumn, first wintering them indoors on a forage-based diet, before turning them out to fatten naturally in grass pastures.
He also supplies Nicholsons Butchers with Angus-cross cattle, again noted for their beef, along with Texel-cross grass-fed prime lambs, now in regular supply. "Our mission is to create a wholesome, natural and unique product," said Gordon.
Eland Hall has been in the Meek family since the 1800s. Holding Farm Assured status, it is subject to rigorous annual inspections, guaranteeing all aspects of animal welfare and environmental care. All animals are transported direct from the farm to the local abattoir in Burradon to ensure minimum stress.
Doug Nicholson said: "We are fully committed to supplying local food to local people. I try to buy as much of the meat we sell as possible from established local producers, many of whom are based in Northumberland.
"Not only does this achieve continuity of supply, but is also ensures we have total hands-on control over the whole supply process, coupled with fully traceability. In addition, we are supporting regional farmers, who share our commitment to outstanding quality.
"Our pledge is to put the taste back into food. That is why we always try to source free range wherever possible, selecting prime livestock that has been raised under completely natural conditions to produce the very best eating meat available.
"More and more of our customers are demanding to know exactly where the meat they eat comes from and we are happy to supply them with this important information."
Doug adds: "We believe such gate-to-plate partnerships can be held up as a shining example of best practice in the industry sector."

Traditional Breed Beef and Pork in Demand


The Stabiliser: the modern functional suckler cow


Rare Breed Meats Direct From Herding Hill Farm