Countdown to a Cracking Countryside Live 2007
24/10/07
With only days to go until the gates open on this year's Countryside Live, the exciting two-day event offers fantastic food, funky fashions, friendly animals and fabulous shopping - great for all the family.
Karen Cowling and her collie, Sam get ready for the dog agility demonstrations at this weekend's Countryside Live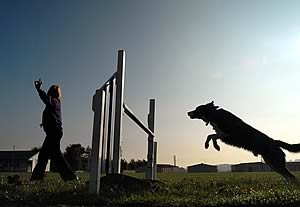 With the perfect mix of the best of rural life and fun activities, Countryside Live takes place on Saturday 27 and Sunday 28 October in the Yorkshire Event Centre at the Great Yorkshire Showground, Harrogate. Some 90% of activities are held inside the purpose-built exhibition halls, so everyone can enjoy the weekend no matter what the weather. Countryside Live is organised by the Yorkshire Agricultural Society, best known as the organiser of the Great Yorkshire Show.

Show Director Bill Cowling said: "This is the fifth Countryside Live and we're confident our visitors will have a wonderful time. Having to cancel the livestock classes was disappointing, but we have added a whole range of extra attractions and as ever, we have lots of stands with opportunities to get a head start on the Christmas shopping!

He added: "Around the show we've got dog agility demonstrations for the first time, plenty of small animals in the extended Family Pet Area, cookery demonstrations, fashion shows, and rural crafts - it's the perfect end to half-term for children, and the rest of the family will have a great day out too."

Taking centre stage each day will be the members - canine and human - of the Harrogate Agility Training Society (HATS), with dogs of all shapes and sizes being put through their paces over a specially-designed obstacle course.

In the extended Family Pet Area there is plenty to see, whether your interest is in spiders and snakes or rabbits and guinea pigs, and you'll be able to pick up useful tips on caring for different species.

More than 100 brownies are expected at the event and a new feature this year is the special Countryside Live Brownie badge, which members of local packs can obtain by completing a series of show-related tasks. In the Education Area there are plenty of hands-on activities, from bread and sausage-making to a colouring competition or there's the opportunity to get "hands on" at the potter's wheel. A special feature is the Halloween Fancy Dress competition, when under-12s are invited to arrive in the spookiest costume they can make from recycled materials.

If you prefer the glitz and glamour of the catwalk, then take in the fashion shows under the heading of "Country Cool". Co-ordinated by Bernadette Gledhill of the Louise Morton Model Agency of Huddersfield, these will feature clothes designed by Yorkshire entrepreneurs including deerskin clothing from Holme Farmed Venison of Sherburn-in-Elmet and luxurious lingerie from Bella di Notte of Helmsley.

The event also provides the opportunity to chat to producers of some of the region's finest food and drink and indulge in the many sampling opportunities? The cookery theatre is another major attraction with award-winning chefs giving regular demonstrations, as well as the three category winners of the Great Yorkshire Cookery Competition preparing their prize-winning dishes live on stage.

The climbing wall offers the chance to take a fresh view of Countryside Live, while the Village Green area will feature a thatching display by Leo Wood of Northampton, with a working exhibition for children - and parents - to try out their own skills. There is also a pottery demonstration by Ingleton Pottery of Gargrave, near Skipton, and the fascinating art of harness-making is explained by Arthur Hunter of Seaham, Co Durham. Musical accompaniment is provided by the Yorkshire Post Jazz Band, setting the seal on this vibrant, buzzing area.

Elsewhere, the Woodfair features a chainsaw sculptor, tree identity quiz, wood-turners and a range of exhibitors displaying forestry machinery, equipment and accessories. There will also be demonstrations of a mobile sawmill and a pole turner.

Gardeners will want to head for the Knaresborough Horticultural Society's Late Flower Show, being held at Countryside Live for the second successive year. As well as children's classes and those for flower arranging, there are categories for novelty vegetables and the Championship Class Special Prize for the best five vases of three chrysanthemum blooms.

Knaresborough Horticultural Society chairman, Mike Prest, said: "It's been a difficult year for gardeners but we're still looking forward to a good number of entries as we have quite a variety of classes. For the first time this year we also have the local schools' competition, where children get the chance to show how their school promotes gardening. This is something we hope to expand in future shows as so many schools are now starting allotment or gardening clubs."

Tickets are available on the gate, priced £8 for Adults and £7 concessions. Children and Yorkshire Agricultural Society members are admitted free of charge. On-site parking is also free and extensive. The Great Yorkshire Showground is situated on the south side of Harrogate, with access off the A661.

See www.countrysidelive.co.uk for more details.

The dog agility demonstrations are sponsored by North Yorkshire-based pet food producer Burgess, who will be handing out samples of its premium dried dog food which is completely hypo-allergenic, Supadog Wellbeing.

Fun For All the Family at Countryside Live 2007


Royal Smithfield Christmas Fair Cancelled for 2007


A Fashion First For Countryside Live