Fun For All the Family at Countryside Live 2007
17/10/07
Dogs of all shapes and sizes will be put through their paces later this month when they take centre stage at Countryside Live.
Harriet Lancaster at the 2006 Countryside Live getting "hands on" in the Pets Area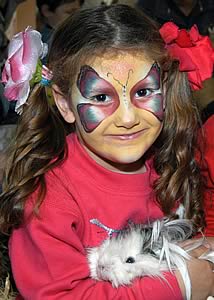 For the first-time canine and human members of the Harrogate Agility Training Society (HATS) will be demonstrating their skills at the popular event, taking place on Saturday 27 and Sunday 28 October at the Great Yorkshire Showground, Harrogate.

Show Director, Bill Cowling said: "Despite the disappointment of not being able to hold classes for cattle and sheep, we will still have plenty of animals on site, and the dog agility demonstrations are something new which I'm sure will interest everyone, adults and children alike. Ninety per cent of the activities take place indoors, and children are admitted free, so we're looking forward to a great weekend."

Dogs large and small will be tackling the specially-designed obstacle course in a series of demonstrations which include jumping over hurdles, running through tunnels, weaving past poles and negotiating a see-saw.

HATS chairman Diana Hillsdon said members were delighted to be taking part. "We have a real mixture of dogs in the demonstrations and we hope people will be interested in watching them and their handlers in action. It is a very different course and environment to what the dogs are used to in training but it will be lots of fun and I'm sure, very entertaining," said Mrs Hillsdon.
The agility demonstrations are sponsored by North Yorkshire-based pet food producer Burgess, who will be handing out samples of its premium dried dog food which is completely hypo-allergenic, Supadog Wellbeing.
As well as the dog agility demonstrations, the Family Pet Area has been expanded this year. Whether you are interested in rabbits and guinea pigs, spiders or snakes, you'll be able to pick up plenty of tips about them all, and more, at Countryside Live.

Appearing for the first time will be East Coast Ferrets, who are bringing along a number of their furry friends and offering lots of information about the species, whilst, courtesy of Askham Bryan College of York, visitors can see a selection of frogs, snakes, spiders and other creatures you may keep as pets, or find living in your garden.

Making a welcome return to Countryside Live will be Bunny Burrows from Richmond, who are bringing rabbits and guinea pigs, and offering tips and information on how to look after them, while another popular regular will be Hazel Brow Farm who are bringing along some hens and ducks. In addition there will be owls and falcons on display with staff from Falconry UK Ltd on hand to answer questions.

Nearby in the Education Area, there will be plenty of hands-on activities to keep youngsters entertained. Children can choose from bread and sausage making to candle making, badgemaking and a colouring competition.

Dozens of local Brownies will be enjoying the weekend show - and completing activities as part of a badge scheme. A special feature is the Halloween Fancy Dress Competition aimed at youngsters under the age of 12 who are invited to dress up in the spookiest costume - made from recycled materials - and be in with the chance of taking to the catwalk during the event's Fashion Shows.

Co-ordinated by Bernadette Gledhill of the Louise Morton Model Agency of Huddersfield, clothes created by Yorkshire entrepreneurs will be featured during the regular shows, including deerskin clothing presented by Holme Farmed Venison of Sherburn in Elmet and T and polo shirts from Alison McHamish of Boroughbridge.

Royal Smithfield Christmas Fair Cancelled for 2007


A Fashion First For Countryside Live


Ploughmen's Spirits Will Not Be Dampened!