A Fashion First For Countryside Live
10/10/07
Yorkshire entrepreneurs are finalising their fashion collections of "Country Cool" in readiness for their debut onto the catwalk at this month's Countryside Live.
Fun and frivolity from Boroughbridge designer Alison McHamish of Eei-Eei-O, with models Isabelle Mason, Nadar Musharbash and Tiffany Leonard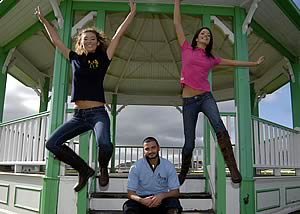 For the first time, the popular event will feature fashion shows in its line-up and stylish outdoor clothing is being showcased.

Now in its fifth year, Countryside Live is organised by the Yorkshire Agricultural Society and is held at the Great Yorkshire Showground in Harrogate on Saturday 27 and Sunday 28 October. A great day out for everyone with an interest in the countryside, it encapsulates the best of the outside inside. Aimed at the whole family, 90 per cent of the activity takes place indoors within the Yorkshire Event Centre.

The fashion shows are being held three times each day, at 12noon, 1.30pm and 3pm under the title "Country Cool" and are organised by Bernadette Gledhill of the Huddersfield-based Louise Morton Model Agency. Adding fun and flamboyance will be the Yorkshire celebrity florist and fashion enthusiast, Carl Wilde as the compere. Originally from Castleford, Carl, is a regular face on television's GMTV and This Morning.

He said: "I have always been very interested in fashion – before starting in floristry I had wanted to become a fashion designer. Over the years I have also become increasingly interested in the countryside and issues affecting the rural life – I always try and buy Yorkshire produce and support local businesses.

"I am looking forward to Countryside Live and in particular, seeing the range of country skills being demonstrated, as well as doing some shopping!" said Carl, who now lives in Birstall, Leeds.

Yorkshire entrepreneurs taking centre stage at the shows will be:
Deerskin clothing presented by Holme Farmed Venison of Sherburn in Elmet,
Fun outfits for the young and young at heart from Eei-Eei-O of Boroughbridge, North Yorkshire
Innovative Climbing Wear from godsrock, Huddersfield
Silk and Wool scarves from The Shawl Stall, York
Luxurious lingerie from Bella di Notte of Helmsley
Clothing from countryside clothing brand Tottie of Bradford
In addition there are wacky wellies and colourful crocs from The Sock Company and stunning and stylish casual wear from Joules.


The fashion shows are also organised in conjunction with the Textile Centre of Excellence, Huddersfield.
See www.countrysidelive.co.uk for more details.
YORKSHIRE DESIGNERS

Holme Farmed Venison, Sherburn in Elmet
Farming entrepreneur Nigel Sampson decided to create a fashion range after looking for a way to use the leather from his successful venison business. With the help of wife Miranda, and his two daughters, Nigel has designed a range of clothes and accessories using the discarded deerskins.

"The impetus really came from Miranda. We had a few things made for her – in particular a long skirt – and a lot of people commented on it so we decided to start making a fashion range, including long and short skirts, plus-twos and plus-fours, leather jeans and the like.

"We are not producing high-fashion, but are aiming more for more classic designs. The leather is extremely soft and wearable and very high quality," said Mr Sampson, whose North Yorkshire venison business has seen a surge in sales of meat in recent years after endorsement by celebrity chefs.
Eei-Eei-O of Boroughbridge
Former riding instructor Alison McHamish, launched a range of outdoor clothing in October 2006 featuring her own animal drawings - it had always been a dream to turn her doodles into a business. Alison produces tee-shirts, polo shirts and sweatshirts, as well as baseball caps and mugs – and all feature her characters Crackers the Cat, Match the Pony and Daft Dog, based on her own Labrador Jasper.

"I launched Eei-Eei-O at this year's Great Yorkshire Show and it was a great success – its outdoorsy clothing for girls, boys and the young at heart. It's good quality at a reasonable price," said Alison.

Bella di Notte
Susan Johnson founded Bella di Notte with a quest in mind, to offer beautiful thermal underwear using the highest quality natural fibres available. Designed by Susan, in Helmsley, North Yorkshire and made in Italy using the finest wool, silk and lace, she has certainly proved that thermals don't need to be frumpy, uncomfortable and synthetic but fun, fashionable and feminine.
Being brought up on a North Yorkshire farm meant Susan was a vest wearer from an early age. A trip to Italy and the chance discovery of a range of stunning vests made from soft wool and pure silk and Bella di Notte was born.
"One layer of good quality thermal underwear can replace two bulky sweaters and make all the difference to staying warm and feeling comfortable. Our customers buy thermals for everything from skiing, working outdoors, walking the dog, working from home or just wanting keep the heating bills down," said Susan who now counts celebrity clients among her customers including fashionista Savannah Miller.
Susan's now collection includes a whole range of thermal and non thermal underwear vests as well as Italian made outerwear and nightwear.
The Shawl Stall, York
It was while living on a meditation centre in southern India that Chris Adby came upon his idea of importing silk and wool scarves. With the help of wife Sheela (correct), Chris, of Skelton, York, set up The Shawl Stall in York three years ago., Chris now travels to shows around the North of England with his range of pure silk, silk and wool and merino wool scarves.

"I have built up a reputation as a specialist in shawls and scarves – most come from India but I also import them from Thailand too. When I came back from India I brought 50 shawls with me – I soon sold them and so the Shawl Stall was born," said Chris
Tottie of Bradford
Based at Wibsey, Bradford, Tottie started life as clothing for polo players, but has developed into a successful leisurewear brand, owned by Matchmakers International, and produces jeans, gilets, tee-shirts and rugby shirts at affordable prices.


Countryside Live Cancels Cattle and Sheep Due to Foot and Mouth


Great Yorkshire Cookery Competition 2007


Countryside Live 2007 - A Feast of Fun