27/07/07

Fantastic food, fabulous fashions, friendly animals and a great day out for all the family are the hall marks of this year's Countryside Live.

Jenny Dale, aged 9 years of Howden, East Yorkshire, a competitor at the 2006 Countryside Live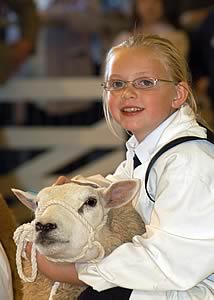 The two day event which takes place on Saturday 27 and Sunday 28 October provides the perfect opportunity to experience a mix of the best of rural life and fun activities. Now in its fifth year, Countryside Live takes place in the Yorkshire Event Centre at the Great Yorkshire Showground, Harrogate with 90% of activities taking place inside within the purpose built exhibition halls.

Show Director, Bill Cowling commented: "There really is something for everyone, whether you're interested in the animals, the food stands and cookery demonstrations, a spot of shopping or just the chance to have an insight into country life." Countryside Live is organised by the Yorkshire Agricultural Society, best known as the organiser of the Great Yorkshire Show.

For the first time Countryside Live will include a fashion show. Details have yet to be finalised, but shows will be held each day and will have a rural theme.. watch this space!

The growing interest in food and where it comes from will be highlighted in the children's activity zone where there's the chance to literally get "hands on" by taking part in activities such as bread making. Yorkshire is the source of some of the country's finest food and drink, so take the opportunity to chat to the producers, try out the samples and then buy.

The cookery theatre has established itself as a major attraction with award winning chefs creating culinary delights over the two days. And for three food aficionados, it will be their first experience of the public spotlight as competition winners. The winners of three categories of the Great Yorkshire Cookery Competition will be preparing their prize winning dishes on stage within the cookery theatre each day of the event.

The Village Green area will showcase a range of country skills, whilst the climbing wall provides the ideal opportunity to get a different perspective on the event.

Put the dates in your diary - and don't forget, children are admitted free of charge - an ideal opportunity for the last weekend of the autumn half term holiday - and parking is free and extensive.

INFORMATION

Tickets cost: Advance Gate Price

Adults £6 £8
Concessions £5 ` £7
Children: FREE ADMISSION

Car parking is free and extensive and there is free admission for Yorkshire Agricultural Society members on presentation of their membership card.

There are also discounts for groups of 20 people or more.

The Great Yorkshire Showground is situated on the south side of Harrogate, with access off the A661.


Countryside Live Cancels Cattle and Sheep Due to Foot and Mouth


New Venue for 2007 for Tockwith Show


Dairy Event Stages New Tele-Handler and Tractor Loader Demonstration


Honours Even at Inaugural All-Ireland Limousin Derby