Great Yorkshire Cookery Competition 2007
27/09/07
A passion for regional food combined with innovative recipes and impressive culinary skills were the trademark of every winner in the Great Yorkshire Cookery Competition 2007.
Tim Cottrill, Amateur Chef Winner with judges behind
(l-r) Elaine Lemm, Food and Wine Editor of Yorkshire Life; Elizabeth Halsall of the Regional Food Group; Deborah Goodall of the Yorkshire Agricultural Society and Richard Allen, Head Chef at Harvey Nichols.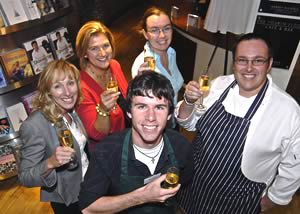 Now in its fourth year, the event is organised by the Yorkshire Agricultural Society in association with Yorkshire Life magazine and Harvey Nichols.

Nigel Pulling, Chief Executive of the Yorkshire Agricultural Society, said the contest highlighted the quality and variety of food produced by the region's farmers.

"Some of the finest food in the country is available right on our doorstep and our winners' recipes emphasise that. The Society recognises how important it is to make people aware of the excellent quality and variety of local produce, and the Great Yorkshire Cookery Competition plays an important part in that," he said.

Entrants had to submit an original recipe for a starter, main course or dessert which used Yorkshire produce as far as possible and cost less than £10 to make. Shortlisted finalists in the Amateur and Professional Chef of the Year categories took part in a cook-off at Harvey Nichols in Leeds, while the Young Cook of the Year hopefuls battled it out at the Bettys Cookery School in Harrogate.

The eventual winners were:
Professional Chef of the Year - David Jenkinson of Café Fish, Scarborough, North Yorkshire
Amateur Chef of the Year - Tim Cottrill of Darley, near Harrogate, North Yorkshire
Young Cook of the Year - Helen Rosillo of Harrogate, North Yorkshire
The difficult task of choosing the winners was undertaken by Elaine Lemm, Food and Wine Editor of Yorkshire Life; Richard Allen, Head Chef at Harvey Nichols; Elizabeth Halsall of the Regional Food Group; Deborah Goodall of the Yorkshire Agricultural Society; and Roxy Warrick of Bettys Cookery School.

The three winners will each receive a prestigious trophy and framed certificate, along with a £250 cash prize, and will also cook their dishes at Countryside Live, which takes place at the Showground in Harrogate on Saturday 27 and Sunday 28 October this year.

Congratulating all three winners, Elaine Lemm said the standard of entries in this year's competition had been extraordinarily high and the judges had had a particularly tough job.

"All the finalists had submitted really innovative recipes and showed great skill in the kitchen. We saw the use of more unusual ingredients this year, such as venison and hare, and I think we really set a benchmark in the standard of the food that was produced," she commented.

"Our three winners should be very proud of themselves for being the class in what was a truly superb field. Their food looked good, tasted fantastic and showcased Yorkshire produce in the best way possible."

David Jenkinson, Head Chef at Café Fish, said he was shocked and delighted to win the professional category and hoped the competition would make more people realise how good local food was. Every ingredient in his winning dish, Steamed Wild Sea Trout on Crunchy Vegetables, Roasted Cherry Tomatoes and Garnished with a Warm Vinaigrette, topped with a Crispy Potato Garnish, was sourced locally from Scarborough.

"The area is known for its fish, of course, but everything else - the vegetables, honey, butter and so on - was also from Scarborough. We have such a fantastic array of food in Yorkshire - we don't need to go anywhere else!"

William Bell, the owner of Café Fish, added: "I nominated David because he has such a passion for good local produce and I felt that should be recognised. His dish features on our menu when it's in season - we're very much about using the ingredients that are available and I think his love of food comes across in his cooking."

The amateur winner, Tim Cottrill, is 18 years old and currently in the Sixth Form at St Aidan's CE School in Harrogate. He won over the judges with Lamb Rack with a Herb and Parmesan Crust, served with Sticky Carrots, a New Potato and Green Bean Salad and Savoy Cabbage sautéed in Olive Oil and Wholegrain Mustard, with a Caramelised Balsamic Vinegar Dressing.

"I've been cooking for the family since I was about 12 years old and it's been my dream for a few years now to have a restaurant of my own. I've got my A levels to do and then university, but winning this competition has given me added impetus to reach my goal," he explained.

"I wanted my dish to demonstrate the wonderful versatility of Yorkshire's vegetables and the mouth-watering quality of local meat. Who needs lamb flown halfway round the world from New Zealand when we've got such fantastic livestock roaming the fields a mile down the road?"

Taking the honours in the junior section, Helen Rosillo prepared Warm Goat's Cheese and Red Onion Tartlet with a Sweet Pepper and Tomato Chutney, served with Seasonal Leaves and Toasted Pine Nuts.

The 16-year-old, who attends Harrogate Grammar School, said: "I love cooking and want a career in food. I believe it's very important that your cooking reflects where you're from.

"I wanted as many of the ingredients as possible in my dish to be local - I even managed to get local goat's milk butter. I'm so happy the judges liked my recipe and I see this as the first step on the ladder for my future."

The three winners will now prepare to cook live on stage at this year's Countryside Live. The event will also feature the Country Cool fashion show, the Yorkshire Woodfair, a honey competition, dog agility, hands-on activities for children such as bread-making and of course lots of opportunities to taste and buy from local food producers.

Advance tickets cost £6 for adults and £5 for concessions - telephone the Ticket Sales Line on 01423 541222. Admission on the gate is £8 for adults and £7 for concessions. Children aged up 18 are admitted free of charge. For more information visit www.countrysidelive.co.uk.

Countryside Live Cancels Cattle and Sheep Due to Foot and Mouth


Countryside Live 2007 - A Feast of Fun


Flying the British Livestock Flag this Autumn