Lumbylaw Texel Flock Sells after 30 Years of Breeding
07/09/07
A sale on Saturday September 15th heralds the end of almost three decades of pedigree sheep breeding for Richard Oates.
Richard Oates and the Lumbylaw ewes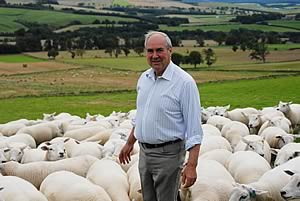 The Lumbylaw Texel flock at Billerwell Farm, Bonchester Bridge, near Hawick came out top on performance across all UK Texel flocks last year and the dispersal of the adult portion of the flock marks the end of an era for Richard Oates.

The on-farm sale is being conducted by Carlisle auctioneers Harrison and Hetherington in conjunction with George F White, of Alnwick where Richard and his wife Marion's middle son Tom is a partner and land agent and auctioneer.

The Lumbylaw flock was founded at Lumbylaw farm near Alnwick in 1976, simultaneously with Mr Oates' pedigree Limousin herd which grew to be the largest pedigree herd in the UK prior to the majority of the herd being dispersed in 2000.

The couple were by then living in the Scottish Borders and four year ago bought the 350 acre Billerwell Farm which is half arable and runs to 1,424 ft above sea level on Rubers Law.

A firm believer in performance recording, Richard has been recording his Texels for 25 years with the emphasis on breeding for the commercial attributes of length, tight skin and a good carcase.

The Lumbylaw Texels are one of the oldest recorded flocks, registered since 1976. Nationwide recorded flocks now number 150, recording approximately 15,000 lambs per year.

From these recordings, Lumbylaw's impressive statistics included last year - 10 of the top 22 stock sires, 15 of the top 20 ram lambs and 12 out of the top 20 lambs judged on muscle depth (from a total of 5,000 ram lambs). The flock's lamb average was in the top five per cent of the breed.

These statistics are mainly due to the fact that Richard Oates has used the latest technology to improve quality.

"We have strived to consistently improve the performance of the flock, using the best technology available," said Richard, whose interest in the use of performance figures began while he worked for the Pig Improvement Company as a student.

Like the Limousin, he was attracted to the Texel because of its superior carcase qualities but he recognised the importance of further improving the breed through recording.

He was chairman of the Texel society's performance recording group for nine years until 2000 and he is pleased to see that an increasing number of breeders are now recording. This year of the 70,000 lambs recorded with the society, 15,000 had performance figures.

"We have CT scanned more lambs at Edinburgh than any other flock and this has enabled the selection of muscle as well as growth to produce the top UK performance flock."

The flock is made up of 130 ewes and 90 gimmers. Bred from selected lines including stock of Lumbylaw origin in other flocks, using embryo transplant after the foot and mouth outbreak, the flock is predominantly first and second crop with a few older ewes.

All the sheep are above breed average for performance, with many in the top five percent and a number in the top one percent of the breed.

While performance has always been to the fore, there has always been a careful selection of sires to maintain true to the Texel breed. Stock sires used from UK flocks include Annan, Turin, Noresk, Stonefieldhill, Baltier, Midhill, Cambwell, Grougfoot, East Middle, Garngour, Muiresk and Alwent.

More recent introductions have been Muriesk Forever and Haremoss Important Boy which have made important contributions to the flock.

The sharing of rams with Charles Scott, East Middle flock, and more recently Arnold Park, Drinkstone flock, has given not only a valuable benchmark of the true potential of stock sires in relation to the national flock, but has enable important genetics to be retained in the Lumbylaw flock.

The philosophy behind this line of breeding has been to produce top quality shearling tups for sale annually at Kelso. With numbers building up to a pen size of about 60 sheep since loss through foot and mouth disease, the flock has retained an impressive average for such a number.

This year's crop of shearlings will be offered at Kelso, the day before the sale, with all tup lambs and ewe lambs being run on for sale next year.

In addition to the impressive performance figures, the flock also boasts the most comprehensive data available on any UK flock for faecal worm count. This data, collected over a 10 year period, provides additional reassurance to purchasers seeking worm resistance.

Richard will still have gimmers and shearlings to sell next year but continues to make plans for further environmental improvements at Billerwell which caters for a growing number of tourists through a bed and breakfast business and holiday cottage.

The Oates' eldest son Bill is a specialist in computer software for environmental applications and youngest son Joe is a teacher at Longridge School, near Berwick.

The sale is at Billerwell Farm, Bonchester Bridge, Hawick on Saturday September 15 at 10.30a.m. For further details contact Tom Oates at George F White on 01665 603231.

Early Maturing Hampshire Downs Maximise Returns


Lleyn Sheep Society Introduce New Registration Tag


Suffolk Sheep Society's Search to Cut Flock Labour Costs