Suffolk Sheep Society's Search to Cut Flock Labour Costs
23/07/07
A new research initiative has been launched by the UK's leading native terminal sire Society, in its bid to drive down flock costs, it was announced at the Society's premier sale, on Saturday 21st July in Edinburgh.
Stephanie Matheson is welcomed to the Society by chairman, Jim Fleming.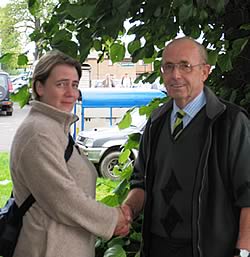 For most sheep enterprises the biggest associated cost is labour – as a result the Suffolk Sheep Society has entered into a three year contract as co-sponsors of a CASE student at the SAC, with the project being funded by BBSRC and Genesis Faraday.

Chairman of Council, Jim Fleming, says he is delighted with this latest development: "The Society's Council believes it is essential, both for our own members and for our commercial customers to be able to reduce costs of their sheep enterprises. To this end we will be looking into a number of functional traits associated with sheep production, including lambing ease and lamb vigour."

Already data from more than 5,000 sheep has been collected for these traits which have been recorded by Suffolk breeders over the past two years. The information gained to date will form the foundation data of the research to be carried out over the next three years.

Mr Fleming continues: The Suffolk Sheep Society's recent adoption of the New Zealand "cold tolerance" Gene Marker Test, as provided by Lincoln University will ensure that this project uses not only existing knowledge to develop EBVs for functional traits, but also the latest scientific technology available."

Stephanie Matheson will be carrying out the research and collecting data as CASE student appointed to the Society, and will use the research as a vehicle for her PhD studies: A graduate of Glasgow and more recently Newcastle, she will work under the supervision of SAC's animal behaviour team led by Dr Cathy Dwyer.

Stephanie's qualifications include a Masters by Research in Biology and BSc (Hons) in Zoology. Stephanie originates from the Highlands and is currently a research assistant at Newcastle University, she will commence her work with the Society on October 1.

Lleyn Sheep Set to Soar to New Heights


Catons Clinch Skipton Prime Lambs Championship


Wet Early Summer Fuels Fly Problem