25/09/07
Lishman's Butchers, of Ilkley, has launched a new portfolio of home-cured Yorkshire pork products.
Butcher David Lishman with one of his new home-cured hams.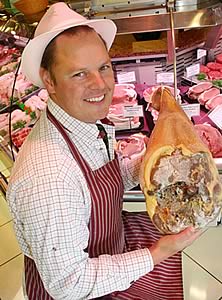 The move is in direct response to both consumer demand and the business's keynote aim to source British-labelled locally produced meat products at every opportunity in support of regional farmers.

David Lishman, owner of the Leeds Road shop, is a long-standing champion of the "let's keep it local" ethos.

He explained: "Earlier this year, we found it was becoming more and more difficult to source quality bacon and ham from British-reared pigs. That's because the majority of bacon and ham sold in this country is from inferior imported pork.

"But, because the pork is then cured in Britain, it can, through a loophole in EU regulations, be labelled as British. This causes confusion for the British shopper and leaves UK pig farmers in an impossible position.

"We decided to act to redress the balance and dug out our old bacon curing recipe books. We have since thoroughly tested many traditional curing recipes, adopted them for modern-day production requirements and invested in new plant and equipment.

"We are now producing and selling virtually 100% Yorkshire home-cured hams and bacons that are of a much higher quality than those bought in previously.

"We are doing everything possible to further support our own hard-hit farming communities, who we have dealt with extensively over the years.

"It's all about keeping down food miles and helping to boost the rural economy by encouraging people to produce and purchase food locally.

"More and more of our customers are now wanting to know where the meat they eat comes from and we are happy to furnish them with this information."


North Yorkshire pig farmer Mark Burton, left, is joined on the farm by Lishman's Butchers shop manager Stuart Baker, centre, and apprentice butcher Joe O'Hare.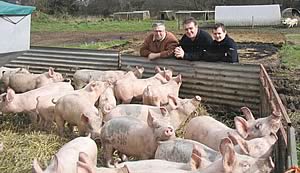 Lishman's Butchers is sourcing regular supplies of pork from award-winning fourth generation North Yorkshire pig farmers Grant and Mark Burton, of Manor Farm, Wilberfoss, York.

Grant Burton explained: "We rear traditional free range pigs and the natural welfare of the stock is very important to use. We are pleased to be supplying quality pigs to good, caring butchers like Lishmans on a regular basis."

Lishman's new home-cured Yorkshire pork products are prepared on the premises in the newly-built in-house meat preparation unit and oak smokehouse.

David Lishman added: "As a direct result of this exercise, we have for the first time created a new mail order website selling solely Yorkshire produce – our own hams, bacons, sausages and black puddings, along with other goods made specially for us in the county by local producers."

The online shopping site – www.lishmansonline.co.uk - has been purpose designed to open up access to Lishman's products to a much wider audience. It is now live.

British Pork - We'll Pay More Say Shoppers


Minister In Talks To Help Pig Industry


EU Pig Export Ban Lifted