Rare Breed Meats Direct From Herding Hill Farm
16/07/07
At a time when many livestock farmers in the region were seriously considering their future in the aftermath of the foot and mouth epidemic, a couple realised their long held ambition to sell their home-produced rare breed meats direct to the public through a farm shop.
Charles and Debbie inside the farm shop.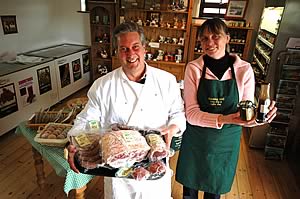 Charles and Debbie Rayson began breeding Dexter cattle, Shropshire sheep and Berkshire pigs in 2002 and while building up the numbers of animals at Herding Hill Farm, between Haltwhistle and the Military Road, they sold at farmers' markets.
At the end of last year they opened their farm shop and coffee shop at the end of last year in the popular tourist area near Hadrian's Wall in Northumberland, selling meat products only from their own Northumbrian Rare Breed Meats business.
"We wanted to go for a niche market and sell something special and while the types of animals we are producing would not generally be commercially viable, by selling all our own meat products direct to the consumer we believe this will allow us to make a living," said Charles Rayson.
The Raysons farm 80 acres at Herding Hill and rent a further 40 for their 100 head of Dexter cattle, which includes calves and followers, the 80 ewe flock of Shropshires and nine Berkshire breeding sows. They are looking for more land to enable them to increase their stock numbers.
"We chose all the breeds for the quality of their meat and we wanted people locally to try it. We still sell at farmers' markets at Greenhead and Hexham but the rest of our meat is sold through the farm shop and the café and, if we have surplus, whole beef animals are sold to Michelin star chef Steve Smith for his restaurant The White Room at Seaham Hall Hotel, Durham, who chose the meat for its quality" said Charles.
Only animals bred and produced by the Raysons are sold through the meat business and to further endorse the products' traceability, all the finished animals are also registered with their respective breed societies.
Establishing their herds and flock proved difficult with the breeds they were looking for often only kept in small numbers as a hobby.
They eventually bought some cows and calves from Ted Taylor at Grange over Sands in Cumbria, eventually buying his whole High Cark herd of 30 females, some of which were in calf, when he decided to retire.
One of their stock bulls Bellvue Marcus, now 10 years old, was bought from Belfast Zoo and currently they are using a three year old home-bred bull, Northumbrian Don's Choice.
The herd is a mix if the short-legged and larger types of Dexter and is run outside all the year round with access to buildings for shelter in the winter when they are fed ad-lib haylage.
No concentrate is fed to the breeding or finishing cattle and medicine is only used when necessary on an easy care system.
The herd calves throughout the year to provide a regular supply of beef with the slow-maturing animals being finished at between 24 to 30 months old. Carcases are hung for a minimum of three weeks before cutting in the on-farm butchery at Herding Hill.
"We're running the farm almost along organic lines. We have had people ask us why we don't house the cattle and finish them quicker but by this system they don't get over-fat and the fat on the carcases is a yellow colour and it all adds to the flavour of the beef.
"We can see why animals like this are rare breeds because despite them being half the size of other cattle, the slaughter costs are exactly the same, the butchery costs are the same as they have the same amount of bones. You just couldn't produce them in a commercial system," said Charles.
Again, sourcing Shropshire sheep proved difficult with the couple eventually buying a flock of 30 ewes in Orkney and further adding to that with odd sheep bought elsewhere.
"The Shropshire is much like a Suffolk in its carcase conformation. While we were able to build up numbers quicker than the Dexters, we originally also bought some North of England Mules to sell their lambs through the market and we have kept them on although we didn't lamb them this year because we are still looking for extra land," said Debbie.
The ewes are housed for lambing in February when they are fed some concentrate. The lambs are finished at up to four months old.
The Berkshire pigs are also slow finishing and they are slaughtered at around a year old after finishing on a diet of locally-grown broad beans, wheat and barley.
The Raysons' ultimate aim was to have a 'shop window' for their products and the farm shop was a year in the planning.
While not in the Northumberland National Park, being close to the World Heritage Site of Hadrian's Wall restricted the siting of the new building and dictated its appearance.
One of the hurdles in establishing the business has been in not being allowed to signpost the shop from the Military Road or the A69 because of highways authority constraints.
A site was found on a lower-lying pocket of ground next to the road from the Milecastle Inn to Haltwhistle which was not visible from the Roman Wall area. The stone-built shop which has been designed to look like a stable block, was planned for opening in April 2006, however, difficulties in bringing the electricity supply through the surrounding rocky terrain delayed this until November.
Defra grant aid was made for the building which houses the farm shop, coffee shop and commercial kitchen which were built and equipped with as much as possible from local firms. An on-farm butchery was a previous project financed by the Raysons.
The building has disabled facilities and is one of few places along the wall to cater for all visitors.
Due to demand, the shop now stocks a range of locally produced foods and some gifts and an increasingly wide range of Northumbrian Rare Breed Meats products.
They employ one full time and one part-time assistant as well as a butcher one day a week and they also get help from a friend.
Both Charles and Debbie have had to learn new skills – Charles also does some of the butchery work as well as cooking for the coffee shop which serves hearty meals and because they are currently running the business with a small staff to keep overheads down, they need to turn their hands to all tasks.
Regular work on the farm such as making haylage is carried out by local contractors.
"It's all been a learning curve. Marketing your own product is not easy. Sometimes we find ourselves working until 4am making sausages or corned beef, getting up a couple of hours later," said Debbie, "but we feel it's all worth it because we are producing a quality product and people are now starting to come back for more."
They sell a range of fresh meat products as well as everything from sausages and terrines all made with natural ingredients and no preservatives.

Newfield Beef Shorthorns Quietly Successful


Roman Road Leads to New Pastures


Beef Shorthorn Breeder Hosts Breedplan Seminar