Major Event For The Beef Industry: In South West Scotland
25/09/07
SAC is to hold a beef industry event at Easterbrook Hall at the Crichton Campus, Dumfries on Wednesday 3rd October, starting at 12.30pm. Originally planned to take place at Poldean Farm, Moffat, the venue has been changed due to the restrictions currently in place as a result of Foot and Mouth Disease.
Willie Davidson of Poldean, Moffat, who was due to host the event, will highlight his views on the future for his beef enterprise.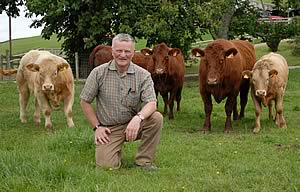 This event which is being held as part of SAC's Scottish Government funded "Success through Knowledge" campaign and which is supported by QMS, is aimed at farmers and others in the beef industry. The aim is to update the audience on the current Scottish Government funded work undertaken by SAC, and to provide practical take home messages for farmers attending. As well as presentations from specialist speakers, information will be available from stands set up by SAC and trade sponsors at the event.
Iain Riddell, SAC's Senior Beef and Sheep Consultant said:
"FMD restrictions have ruled out the on farm event planned, but we are pleased that our intended host farmer, Willie Davidson of Poldean, Moffat, has agreed to speak at the new venue, maintaining a link with the farm. These are difficult times for the beef industry and we hope that our series of talks with strong practical messages will provide the information farmers need to help improve business performance."
Local, Dumfries-based, SAC Farm Business Consultant Rhidian Jones added
"We are disappointed that we cannot hold the event at Poldean but the messages remain the same wherever the venue. There has never been a more important time to be technically efficient and the issues covered will help to improve efficiency and profitability."
Participants are invited to join the organisers and speakers for a buffet lunch at 12.30pm prior to the start of the event. Talks will run from 1.30pm and there will be an opportunity to discuss issues with specialist SAC consultants and to talk with trade representatives afterwards.
Programme:
The farmer's perspective
Willie Davidson of Poldean, Moffat, who was due to host the event, will highlight his views on the future for his beef enterprise
(*see 'Background Notes on Poldean, Moffat' below)
BVD and Johnes
Colin Mason, Veterinary Centre Manager, SAC Dumfries and Franz Brulisauer and Antonia Ganser, Veterinary Epidemiologists, SAC Inverness
Avoiding difficult calvings
Cathy Dwyer, Behavioural Scientist, SAC Edinburgh and Ian Pritchard, Beef and Sheep Specialist, SAC Thainstone
Better Cattle handling
Jimmy Hyslop, Beef Specialist, SAC Edinburgh
Meat Eating Quality
Geoff Simm, Sustainable Livestock Systems Group Manager, SAC Edinburgh
Improving herd fertility
Iain Riddell, Senior Beef and Sheep Consultant, SAC Perth and George Caldow, Regional Veterinary Manager, SAC St Boswells
The beef market and cattle finishing
Gavin Hill, Beef Specialist, SAC Edinburgh and Kev Bevan, Rural Business Consultant, SAC Auchincruive
Handouts with details on all of the talks will be available at the event.
Directions to the venue.
Follow signs for Hospital A & E but continue past the hospital and turn right into the Crichton campus at the roundabout. Easterbrook Hall is on the left and parking is opposite.
Booking.
The event is free, but to help with catering arrangements, please advise us if you intend attending the event, contact: Rhidian Jones, SAC Farm Business Services, Dumfries. T: 01387 261172, E: FBSDumfries@sac.co.uk
*Background Notes on Poldean, Moffat
The Davidson's currently farm 2000 acres on which they run 300 suckler cows and 750 ewes. They have demonstrated their faith in the future of the beef industry by taking on a new farm which they plan to stock with a further 200 suckler cows.
The livestock enterprises had to be rebuilt from scratch following Foot and Mouth, and Willie has been careful to select stock that have easy management characteristics - Saler cows and Lleyn and Blackface sheep.
Two hundred of the Saler cows are bred pure with the other 100 crossed to Charollais bulls. The main market is the sale of breeding females and, following increasing questions about health status they have joined the Premium Cattle Health Scheme. Steers are mostly sold store with some of the pure Salers finished.

Countryside Live 2007 - A Feast of Fun

Flying the British Livestock Flag this Autumn

UK Livestock Does Grand Tour of Europe