2008 Semex Dairy Conference
26/09/07
Looking ahead to the New Year, the dates for the 2008 Semex Dairy Conference have been announced.
2008 chairman, Trevor Lloyd, MDC Council Member and dairy farmer, spoke at the 2007 Conference.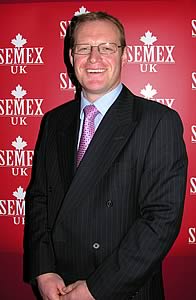 The two-day event, tailored and designed for progressive dairy farmers, is to take place from Sunday 13th January to Tuesday 15th January 2008 in Glasgow, and promises to tackle the most relevant and challenging issues facing the dairy industry.
The conference, chaired this year by MDC council member and farmer Trevor Lloyd, has already secured a strong line-up of speakers. Dr Gordon Atkins, a highly innovative vet from Calgary, Canada and much sought-after speaker, is confirmed for the event, as is David Potts, Group Commercial Director at Dairy Farmers of Britain. As always the conference will have a number of successful dairy producers from across the globe sharing knowledge with attending farmers, focusing on taking an inventive approach to operating in an increasingly demanding environment.

A full programme and line-up of speakers for the event will be announced in October.
For further details and booking information, please contact Helen Miller at Semex UK on 01292 671525.

Semex Dairy Conference 2008 – The Big Picture


New Semex UK Holstein Sires Launched


Semex AI-24 Heatime Could Transform Bovine Fertility Management