Sale of the Kerbanks Herd of Pedigree Jersey Cattle
10/09/07
The first Pedigree Dairy sale to take place after the recent Foot and Mouth restrictions took place at Borderway Sales Centre, Carlisle on Friday 7th September.
Kerbanks Paramount Myra VG88 sold for 1900 guineas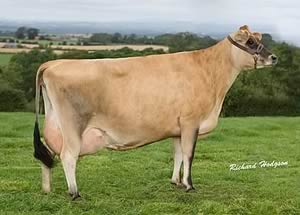 This sale comprised the complete dispersal of the famous Kerbanks Herd of Pedigree Jersey cattle, owned by John & Jane Chester.
The Kerbanks herd has been immensely popular and influential within the Jersey breed in the UK, being responsible for introducing the modern Jersey cow to many first time breeders. John had always concentrated on breeding cows for production with high fat and protein and this was reflected in the current herd average of 6985kg 5.42%BF 3.64%P.
Buyers from every corner of the UK and Ireland attended the sale that resulted in Kerbanks Jerseys going as far North as Aberdeen and as far south as Devon, many Irish buyers were also successful.
Top price was paid by K Brough, Chapel House Farm, Uldale, Wigton, Cumbria for an excellent four year old Kerbanks Junction Regina EX90. This beautiful cow descended from the Thornlee herd from which John had mainly restocked from, and came from the Rexina family which undoubtedly was the most popular family in the sale. Regina sold for 2,500gns with her August born heifer calf sired by Bridon Excitation selling to D Reynolds, Oakley, Barbon for 620gns.
Kerbanks Sultan Roxana a freshly calved Sultan daughter sold to Miss Emma Murray who is surely becoming one of the breed's leading lights for 2,100gns. This fancy uddered heifer also came from the Rexina family coming from an EX92 dam with impressive yields.
Selling for 1,900gns was a beautiful deep bodied Paramount daughter. Kerbanks Paramount Myra VG88 had an impressive show record being unbeaten at 8 different shows throughout Cumbria. She now joins the herd of LF Raven, Priest Croft Farm, Mealsgate Carlisle.
Also selling for 1,900gns was Thornlee Tip Top Rexina EX90 and sired by Enniskillen Tip Top she also had an impressive show record standing in the top of the class at Westmorland Show and also placing
Highly at Agri-Scot and the Dairy Event.Rexina completes the 3rd generation of EX or VG cows and joins Jerseys breeder J Wilson from Dunahone Farm, Church Hill, Enniskillen.

NMR Buys UK Tag Company Nordic Star


Increase Your Black and White Profits!


Bullsemen.com Strengthens its Offering in New PLI Rankings