Increase Your Black and White Profits!
05/09/07
press release by Harrison & Hetherington, Auctioneers
On Monday evening the 17th September the Greatest consignment of Elite Black & White Holstein Friesian Bulls ever brought together on British soil will sell within the Borderway Sales Centre.
Brian Yates with Logan Roxstar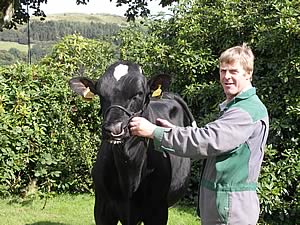 Many wonderful bulls sell all bred from generations of elite dams renowned for strength, high fertility, longevity and high quality production.
Logan Roxstar is one such elite sire with unlimited breeding potential. Roxstar is sired by Mr Sam and comes from the international Roxy cow family. His dam is sired by Patron; she has proven to be an awesome all rounder. Currently in her sixth lactation, she has an impressive production career giving 11,636 305 4.04% 3.42% in her last. She is classified VG85 and to date has breed one Excellent and three Very Good daughters. The Excellent daughter is Logan Outside Roxy regarded by many as the 'dairyman dream'. Outside Roxy has been placed at the top of many major shows the ultimate when she was crowned Grand Champion in 2006 at the Royal Highland Show.
Logan Roxstar is just what your herd needs! His pedigree clearly shows consistent traits for strength, fertility, longevity, high fat & protein and tremendous production.
Holmland is one of the famous breeding establishments in the UK, for many years Holmland has been a market leader in the providing the dairy industry with Elite profitable sires. Holmland Majestic Red is one such sire; he combines two of the world's best cow families for strength and power. His maternal line goes back to D.R.A August EX96, she milked for eight lactations giving 11,367 4.3% 3.1% as an eight year old cow. Majestic Red's dam is Indianhead Durham Roxan EX93; Roxan is the best Durham daughter in Europe and was last years Dairy Event Champion. His paternal line comes from the Fradon Tab Maude family; he is sired by Fradon Inferno who is a Markwell Kite son from Tab Maude's sister.
Inject the Red gene into your herd; improve your herd's fat & protein by using the unlimited strength, power and fertility of this impressive sire.
Many other great sires sell from families and herds renowned for strength, longevity, fertility and production. Herds consigned are Annandale, Bridgedale, Criffehill, Dalebank, Dalesend, Evening, Hinton, Ingleview, Gornal, Holmeden, Tallent, Whitrigg, Blythbridge, Roevalley, Petteril, Ansa, Almond, Kellywell, Scawfel, Townlaw, Syke, Warnelview, Highoaks and Winnoch.
Food for thought! What other breeding policy delivers the results of the Pedigree Holstein Friesian Bull? With an increase in the percentage of heifer calves, a much higher conception rate and at the same time not sacrificing an ounce of quality genetics, this breeding policy ticks all the boxes. It also has the hassle free factor; your bull will be working when you are resting.
So don't delay make the Black & White pay! This special event is after all your BEST CHANCE to get the QUAILTY BULL you deserve. With dairy heifers desperately hard to find and the demand for milk products rising there has never been a better time to go back to the BLACK & WHITE bull.
For details of the sale visit: www.livestock-sales.co.uk

Bullsemen.com Strengthens its Offering in New PLI Rankings


Online Offering Enhanced with New Holstein Sire Jesfa


Six Outstanding Dairy Farms Vie for Gold Cup 2007