Case IH to Roll Out Most Powerful Magnum Tractor Ever
03/08/07
For 2008, Case IH is introducing the most powerful Magnum tractor in history: the Magnum 335.
Rated at 275 PTO (205 kW) horsepower, with 13 percent power growth and 47 percent torque rise, the Magnum 335 standard features include:
Proven 9-litre Case IH engine with new fuel-saving combustion design
A new heavy-duty MFD axle design to bring more power to the ground
A new Cat IVN / III hitch and Cat IV drawbar to handle today's largest and heaviest implements
The Case IH Magnum 335 is the highest-horsepower Magnum tractor ever introduced, with a 275 PTO hp, 9-litre engine, and high capacity hitch and drawbar for customers pulling heavy implements.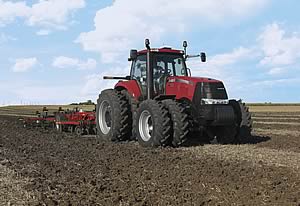 "Growers are pulling larger, heavier implements than ever to cover more acres," says Tom Dean, North American marketing manager for Magnum tractors. "Yet at the same time, we need to be as fuel-efficient as possible. The new piston design in our 9-litre engine meets increased power requirements, reduces emissions and gives us up to a 3 percent improvement in fuel economy vs. the previous 9-litre engine."
The enhanced 9-litre engine on the Magnum 335 has a 2100-RPM rated engine speed. This same fuel-saving 9-litre power plant also is being introduced in the 275 and 305 series Magnums in 2008, with a rated engine speed of 2000 RPM. The well-accepted 8.3-litre engine remains standard on the Magnum 215 and 245.
Customers will get their first glimpse of the new Magnum 335 at 2007 fall farm shows. Dean adds that the 2008 model year marks the 20th anniversary of the revolutionary Magnum tractor, originally introduced as the 7100 series in 1988. To honor this anniversary, all 2008 model year Magnum tractors are being shipped with a 20-year commemorative decal.
In addition, where previous Magnum tractors came standard as "AccuGuide Ready" -- allowing autoguidance to be added in the field -- 2008 models take the growing popularity of autoguidance one step further with factory-installation of the complete AFS AccuGuide autoguidance system.
"This is an industry first for Case IH," says Dean. "For the first time we're shipping tractors with all the autoguidance components installed right at the factory. Growers are adopting autoguidance at a very fast pace with smart features and powerful technologies that deliver all the productivity and profitability our customers expect."
More pulling power for larger implements
According to Dean, "Case IH is committed to providing customers with the most powerful, productive, reliable, comfortable tractors that are technologically advanced yet user-friendly, and the new Magnum 335 fits the bill." For example, the 335's new front axle design is rated at 14,850 pounds (6735 kg) static capacity to meet today's higher ballasting and horsepower requirements.
"The new standard Cat IVN / III hitch – with a lift capacity of 18,900 pounds – is a match for farms moving up to larger mounted implements," Dean adds. The convertible quick hitch can be converted from a Cat IVN to a Cat III and back without removing the quick hitch from the tractor.
Also standard on the Magnum 335 is a new Cat IV drawbar, using a two-inch (50 mm) diameter pin to match the increasingly popular Cat IV towed implements. The Cat IV drawbar offers a vertical load capacity of 11,000 lbs. (4990 Kg).
The standard transmission on the Magnum 335 is an 18-speed, Full Powershift 18Fx4R. Other transmission options for the Magnum 335 include a 19-speed Full Powershift 19Fx4R with a fuel-saving 19th reduced-RPM transport gear, and a 23-speed Full Powershift with Shift-through Creeper.
New 30-mph transmission available
In addition, a new 19-speed, 30 mph (50 kph) transmission package is now available in the Magnum series. The 30-mph package includes a suspended front axle, trailer brakes, heavy-duty drawbar and wide front and rear fenders. A number of different 30-mph tire options are available, including several rear dual tire combinations.
"More and more implements such as tanks and carts are being rated for 30 mph," says Dean. "This 30-mph package will allow customers to move from field to field faster and save travel time, especially for those with large-acreage operations or fields that are spread long distances apart."
Hydraulic options to handle high-flow implements
Magnum customers also have several new hydraulic options to choose from to handle their most hydraulically demanding tools such as large planters, air seeders, and pull-type sprayers. On the new Magnum 335, standard flow is 46 gpm (175 lpm); the high-flow option provides 62 gpm (236 lpm); and the new Twin-Flow option offers a hydraulic flow rate of 78 gpm (297 lpm).
On Magnum 215, 245, 275 and 305 models, standard flow capacity has increased to 44 gpm (166 lpm), and the high-flow option provides 59 gpm (224). The Twin-Flow hydraulic option on these models is 75 gmp (282 lpm).
Expanded biodiesel compatibility
In keeping with the company's commitment to promote and support customer-grown renewable fuels, biodiesel fuel can now be used in all Magnum tractors.
"The use of B5 is fully approved for all models," Dean says. "In addition, higher blends of B20 are now approved for all Magnum models, with adherence to Case IH biodiesel maintenance practices."

Steiger and Magnum Reach Landmark Anniversaries


More Power, Fuel Economy for Case IH Steiger Tractors


Case IH Harvester Set to Transform Cotton Industry


New Central Insecticide System™ for John Deere Planters