More Power, Fuel Economy for Case IH Steiger Tractors
30/07/07
For 2008, the Case IH Steiger® line introduces five new models including four-wheel drive and Quadtrac® configurations with up to 589 peak horsepower and enhanced fuel efficiency.
The Case IH Steiger 535 is one of five new Steiger models being introduced at farm shows this fall. The 535 is the biggest of the bunch – with a 15L engine rated at 535 horsepower.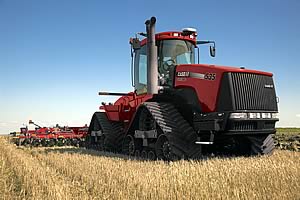 The 2008 Steiger models include a number of Quadtrac and scraper configurations to meet the diverse needs of large ag producers and contractors. All carry a special decal commemorating the 50th anniversary of the groundbreaking design.
New Turbo Compound in Steiger 485 boosts fuel efficiency
The proven 12.9-liter engine previously used in mid-sized Steiger models is now enhanced with an exclusive new "compound turbocharger" technology standard in the new Steiger 485. "This is essentially the same engine that has been used in the Steiger 380 and 430 models, with one major change: Turbo Compound technology for outstanding fuel efficiency," says Tom Dean, North American marketing manager for Magnum tractors.
"Turbo Compound involves two turbo sets working in a series," Dean explains. "The first turbo performs as a conventional turbocharger using exhaust gas to compress air into the combustion chamber. In the Turbo Compound system, instead of routing the exhaust out the exhaust pipe, it then goes to a second turbine downstream from the turbocharger. The energy from this second power turbine then transfers power to the crankshaft through a set of reduction gears and a hydro coupling. This provides fuel efficiency gains of up to 3 percent. The result is increased performance, horsepower and fuel economy."
Dean adds that while Turbo Compound technology has been used in some on-highway applications, "We believe this is the first time it's been used in an agricultural tractor and will mean outstanding fuel savings for the customer."
2008 Steiger models
Steiger model
Engine
model
Engine HP
Peak HP
Standard Wheel
Heavy-Duty Wheel
AccuSteer
Quadtrac
Scraper
Wheel
Scraper
Quadtrac
335
9L
335
368
X

x

X


385
12.9L
385
423
X
X
X
X
X
435
12.9L
435
478
X
X
X
X
X
485
12.9L
485
534
X
X
X
X
X
535
15L
535
589


X
X
X
X
Enhanced center-pull drawbar design
Because Case IH Steiger customers are pulling bigger, heavier implements than ever, the company made several enhancements to the center-pull drawbar design, while maintaining key center-pull benefits such as load distribution and power-to-the-ground. The hanger bar's size increases from 1.5 to 1.75 inches, improving bend strength by 37 percent for the heaviest loads.
The hanger bar is now integral to the chassis, improving stress distribution. It now extends through the side frame, and is welded on both sides for increased strength. The design uses a 2.5-inch solid bar design with a heavier, 1-inch-thick support plate, and is interchangeable between all frame sizes. In addition, the drawbar side-swing angle has been increased 29 percent, reducing front frame side loading and improving ride quality. These combined designs provide a durable drawbar system to handle today's larger implements and larger requirements of the future.
Industry's first complete factory-installed autoguidance
Previous Steiger tractors came standard as "AccuGuide Ready" -- allowing autoguidance to be added in the field. Now, the 2008 models take the growing popularity of autoguidance one step further by offering the complete AFS AccuGuide autoguidance system factory-installed.
"This is an industry-first for Case IH," says Dean, "For the first time we're shipping tractors with all the autoguidance components installed right at the factory. Growers are adopting autoguidance at a very fast pace with smart features and powerful technologies that deliver all the productivity and profitability our customers expect."
Steiger AccuSteer™ II system
Exclusively from Case IH, the AccuSteerTM II system is a four-wheel drive articulated tractor system available on the Steiger 335 model for row crop applications, where precision steering is critical.
"The AccuSteer II provides intuitive point and steer operation; allows the front frame to pivot independent of the rear; eliminates the "tail wag" associated with articulated four-wheel drive tractors for better steering control within rows; and enables easy turns at the end of rows," says Dean. "The system delivers the industry's tightest turning radius for 4WD tractors, at 12.4 feet."
AccuSteer II was recently awarded the prestigious AE50 award from the American Society of Agricultural and Biological Engineers. Design enhancements for 2008 include improved performance and reliability; system hydraulics and electronics integrated with the base tractor; all new steering angle sensors and steering wheel encoder; and a make-up system to overcome drift.
Expanded biodiesel compatibility
In 2008 models, the use of B5 biodiesel is fully approved for all Steiger tractors. Higher blends also can be used -- B20 in all models, and B100 in the 385, 435 and 485 - with use of required Case IH biodiesel maintenance practices.
"Case IH is committed to supporting and promoting the renewable fuels grown by our customers," Dean says. "This commitment extends to our most powerful, highest-horsepower Steiger tractors ever."
Case IH is a global leader in agricultural equipment, committed to collaborating with its customers to develop the most powerful, productive, reliable equipment - for those who demand more. With headquarters in the United States, Case IH has a network of dealers and distributors that operates in over 160 countries. Case IH provides agricultural equipment systems, flexible financial service offerings and parts and service support for professional farmers and commercial operators through a dedicated network of professional dealers and distributors. Productivity enhancing products include tractors; combines and harvesters; hay and forage equipment; tillage tools; planting and seeding systems; sprayers and applicators; and site-specific farming tools.

Case IH Harvester Set to Transform Cotton Industry


New Central Insecticide System™ for John Deere Planters


Claas Xerion Tractor Passes Endurance Test


AGCO Confident in Laverda