Steiger and Magnum Reach Landmark Anniversaries
31/07/07
This autumn marks a convergence of major milestones in the development of Case IH tractors. The adaptable, four-wheel-drive Case IH Steiger tractor is celebrating its 50th anniversary, while the powerful and productive Case IH Magnum marks 20 years since its introduction.
This Gold Signature Edition Magnum tractor is one of just 100 being built by Case IH to commemorate the 20th anniversary of Magnum tractors in 2008. The special edition tractors will carry a decal personally signed by Randy Baker, Case IH president.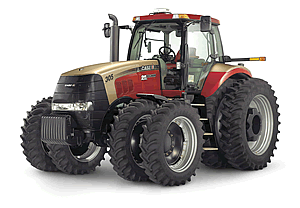 A yearlong celebration of the two anniversaries will kick off at farm shows this fall and stretch throughout the 2008 model year - incorporating new product releases and commemorative events to recognize the contributions of these iconic tractor brands.
"The Magnum was the first all-new tractor we rolled out after the birth of Case IH. Its innovative design set the tone for the whole company," says Randy Wood, Case IH Senior Marketing Director. "And Steiger tractors are simply unmatched anywhere in the industry. When Douglas and Maurice Steiger decided the world needed a more powerful tractor, they went ahead and built it. That level of customer focus still drives us today at Case IH."
Golden opportunities at Case IH dealerships
In a move designed to excite both dealers and customers, Case IH will unveil "Gold Signature Edition" Steiger and Magnum tractors at the 2007 Farm Progress Show. Sporting a distinctive and contemporary gold and red paint scheme, these limited edition tractors will carry commemorative decals, each personally signed by Randy Baker, president of Case IH.
Wood explains that these tractors continue a Case IH tradition: "In the late '60s and '70s, International Harvester created special Gold Demonstrator tractors to create visibility in the market," says Wood. "With these new Gold Signature Edition models, we tip our hats to our International Harvester heritage and create excitement for these important anniversaries."
Production of the distinctive tractors will be limited to 100 Gold Signature Magnum 305 tractors and 50 Gold Signature Edition Steiger 535 tractors, to be allocated to the top selling dealers of the two model lines.
2008 model year upgrades
The celebration will extend to all 2008 model tractors produced by Case IH plants in Fargo, N.D. and Racine, Wis. including a new Magnum 335 and an all-new Steiger line. Every 2008 Magnum and Steiger model will carry a commemorative anniversary decal. Anniversary tours of the two tractor plants are planned, as well as specially designed promotional items, including limited-edition anniversary scale model toys from Ertl and commemorative fine art prints from artist Tom Nachreiner.
The Steiger saga: High plains ingenuity
The 50-year history of the Steiger tractors began at the Steiger family farm in Red Lake Falls, Minnesota. John Steiger and his sons Douglas and Maurice decided that the best way to meet the need for a more powerful tractor was to build one. They were so successful that neighbors began asking for their own. The Steigers produced the first five models in their family barn.
This Gold Signature Edition Steiger tractor is one of just 50 being built by Case IH to commemorate the 50th anniversary of Steiger tractors in 2008. The special edition will be on display at fall farm shows and available next year at selected Case IH dealerships.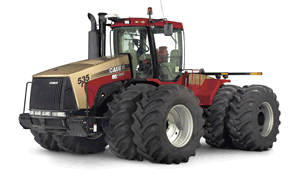 Demand soon outstripped the available capacity, and production moved to Fargo, N.D. Over time, production grew into new facilities and reached global markets, and technical improvements led to greater performance enhancements.
Among the Steiger models introduced over the years is the Steiger Quadtrac, an agricultural innovation that remains unmatched anywhere in the industry. In March 2005, the Plowing World Record was broken by a Case IH Steiger STX500 Quadtrac tractor, plowing 793 acres (321 hectares) in just 24 hours. The 2008 model year also marks the 10th anniversary for the Quadtrac.
Brothers Kyle and Travis Nielsen of Nashua, Montana, have used Steiger Quadtrac tractors from the second year they were available and now farm 15,000 acres with a pair of them. "We went to the Quadtrac tractors for less compaction, better pulling power and the smoothness of the ride," says Travis.
Magnum opus: the story continues
Case IH was a new nameplate when the first Magnum Series tractors rolled off the line in 1988. Dealers and customers had eagerly anticipated the first new tractor created after the merger of Case and International Harvester - two longtime powerhouses in the farm equipment industry - and they weren't disappointed. The Magnum models were the most powerful and productive row-crop tractors in history. And, Magnum tractors introduced the red paint that has become a signature of the Case IH brand.
Today's new generation Magnum tractors lead the industry in power, hitch lift spacing, hydraulic flow, interior cab space, glass area, ergonomics and more. Best of all, they fit the needs of customers from Illinois cornfields to High Plains hayfields - and beyond.
Jeff Kroskob and his family use two Magnum tractors in their commercial hay operation in Brush, Colo. "These Magnum tractors are good. They're reliable. The powershifts are smooth, the fuel efficiency is good and there are hardly any repairs," Kroskob says.
Further west, partners Marvin Nunes and Gary Lorenzo run a pair of Magnum models, along with five Steiger units, on 6,000 acres in Merced, Calif. Annual hours range from 1,000 to 2,000 hours on each tractor - and they say that the Case IH equipment easily handle the pace.
"From what we've seen, there's nothing else out there that will beat a Steiger tractor and the Magnum tractors will do a lot of work," Nunes says.
2008: A milestone year
The simultaneous celebration of the Steiger 50th and Magnum 20th anniversaries make the 2008 model year a landmark for Case IH.
"Celebrating these milestones allows us to recognize our industry-leading products and the world-class dealers who support them," says Wood. "That's essential to our Case IH heritage and an important part of our future."

More Power, Fuel Economy for Case IH Steiger Tractors


Case IH Harvester Set to Transform Cotton Industry


New Central Insecticide System™ for John Deere Planters


Claas Xerion Tractor Passes Endurance Test