Beef Shorthorn Breeder Hosts Breedplan Seminar
13/06/07
A judging seminar hosted by Beef Shorthorn breeder Carey Coombs at Carnwath extolled the merits of pedigree beef recording which is being demanded by newcomers to the resurging traditional breed.
Members judging cows and calves in the pens.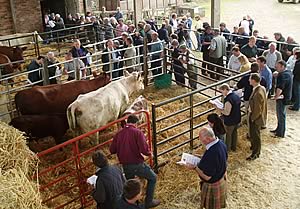 Around 100 people from as far afield as Orkney and Devon saw Mr Coombs' 100-cow Dunsyre pedigree herd with 159 followers which is run on commercial lines at Weston Farm, Dunsyre, near Carnwath.
The event on Sunday (June 10) also combined the judging seminar during which Luing and Simmental breeder Robert McNee, of Woodend Farm, Armadale, East Lothian made a visual assessment of young bulls, yearling heifers and pairs of breeding cows which was then compared with the animals' Breedplan Estimated Breeding Values.
Mr McNee's judging of the cattle generally followed closely the genetic evaluation system's rating of economically important traits and this was then discussed in an open forum.
Breedplan also gave a scanning demonstration for eye muscle area, fat depth and marbling, an important trait for native beef breeds.
Mr Coombs began performance recording cattle before he established his spring and autumn calving Dunsyre herd 18 years ago.
"Many people view breeding as an art but if you can use these values which you can measure to help the art of breeding then you should do so. It's such a powerful tool," he said.
Having visited Australia 10 years ago during which time he met the developers of the Breedplan system which he believed at the time was "streets ahead" of what was happening in the UK, he said he was delighted that the society was now using this recording scheme.
"Given the international connections that the Beef Shorthorn breed has it seems sensible for a small country like the UK to link into the developments and massive investments that the Australians have made," he added.
The 900-acre Weston Farm is run very much as a commercial upland unit and Mr Coombs requires "robust cows that work".
All the cows are outwintered and steers and other animals not sold for breeding are finished, selling either to Waitrose through Dovecote Park or more recently to a farm shop near Edinburgh
Breedplan, which has been in operation for 20 years to offer breeders the potential to accelerate genetic progress and tighten up breeding operations, has been implemented as the national beef recording scheme in Australia, New Zealand, Namibia, Thailand and the Philippines and its use is increasing in the US, Canada, the UK, Hungary, South America and South Africa.
Since it began in the UK three years ago breed societies using the service include the Beef Shorthorn, Angus, Simmental, Belgian Blue, South Devon, Hereford, Murray Grey and the Charolais from July 1.
Breedplan's development officer in the UK Barbara Webster who was at Sunday's event said both the Beef Shorthorn and Aberdeen Angus societies had doubled the number of members performance recording their cattle since taking on the Breedplan system.
"Performance recording is becoming even more important, particularly for breeds like the Beef Shorthorn which are enjoying renewed popularity backed up by successful sales where buyers are looking to back up their purchases with EBVs," she said.
"Because the Breedplan evaluation system is used in many other countries it has advantages for both imports and exports of cattle and breeders can buy with confidence," she added.

High Performance Angus Bulls attract Top Bids at Perth


Beef Shorthorn - a cattle breed for the future


Early Grass Goosed on Cumbrian Shores