Roman Road Leads to New Pastures
14/06/07
Renewed interest in a Roman fort near Bishop Auckland has led to a fresh start for farming couple Gordon and Julie Sedgewick.
The Sedgewicks and their Kelpie pup Sam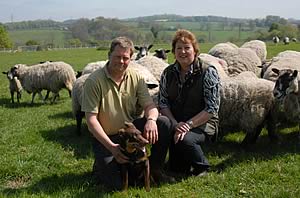 The Sedgewicks have made great progress in their farming business since taking on the tenancy of the Church Commissioners' holding Binchester Hall Farm 12 years ago.

However, plans to further excavate and enhance the Roman fort at the centre of Binchester Hall Farm right on the Roman road Dere Street has led to the landlords offering the couple the tenancy of another farm, enabling them to expand their beef, sheep and arable enterprises.

Already excavations have been carried out recently and filmed by Channel 4's Time Team which is presented by Tony Robinson.

Gordon Sedgewick has put all his energy into building up the business on 300 acres, all but 70 of which is down to grass. The grade 2 loam next to the River Wear is used for arable cropping for home use in rotation with potatoes and a further 100 acres is farmed near Sedgefield.

Julie has combined helping Gordon build up the 70 Limousin cross suckler cow herd and 500 principally North of England Mule ewe flock with a number of roles in the sheep industry reflecting her organisational skills through which she is known countrywide.

The National Sheep Association's northern regional secretary since 1989, Julie has been busy organising the region's successful biennial event, NSA North Sheep at North Hanging Wells in Weardale on June 6.

The Sedgewicks will give up the buildings at Binchester Hall but retain most of the land as well as taking on the 400-acre Ricknall Grange, Aycliffe, near Darlington which is half arable and half grassland.

"Because of the Roman remains we're in a scheduled area so we haven't been able to put up new buildings and it has been very restricting. We have outgrown here now," said Gordon.

"We have come to the end of our tenancy and we're lucky to have been given the opportunity to take the other farm on," added Gordon, who will be moving closer to his roots in the Sedgefield area – while Julie originally lived just over the river from Binchester.

Further enhancing the area's unique appeal, the farm has been in Countryside Stewardship for five years, as is the new farm.

For 20 years Julie was able to enjoy her "obsession" with shows, exhibiting Mule gimmer shearlings to promote their flock.

However, since the demise of auction marts at Bishop Auckland and Tow Law where the shearlings from the flying flock were sold on the following September, the Sedgewicks have kept an older flock of ewes, retaining some of the Suffolk and Texel cross lambs as replacements.

The ewes are lambed in March and the hoggs in April during an eight week period. In May, 150 hoggs with lambs at foot were sold but now all the lambs are sold finished, mostly deadweight, off grass.

Last year's lamb crop was all sold by October with no supplementary feed averaging an R3 grade.

Now Julie, with the help of Gordon and their 18 year old son Tim, a pupil at Barnard Castle School who is going to Harper Adams University College to study rural enterprise and land management and hopes to be a chartered surveyor, has turned her energies into showing commercial cattle – already with a good deal of success.

"I missed not showing the sheep so we started showing cattle which we hope will help to sell the calves as stores," said Julie.

"I don't really need an excuse to go to a show but I felt I wanted to be doing something and be involved. We had a couple of home bred calves that we showed at Hexham which made a good price and that encouraged us," she added.

The suckler cows are autumn and winter calving with calves sold at special suckler sales in Hexham at 10 to 12 months old.

Current pure bred Limousin stock bulls were bred by George Hutton, of Threlkeld, Keswick and Mark Simpson, of Hamsterly.

"We're pleased with our sale averages as currently most of our cows are Holstein Friesian cross bred by my brother John who has a large dairy herd. Now we're intending to breed from some three quarter Limousin cows to get into the top end of the market with our calves," said Gordon.

At the March sale in Hexham, seven month old bullocks just off their mothers averaged £568, with the weaned bullocks averaging £577 and the heifers £485 – a total of 30 head. The rest of the calves are sold mostly in October.

Three quarter calves will be kept as some herd replacements while the odd quality heifer will be bought for showing and retained for breeding.

The heifer Bramble, bought from John Smith-Jackson, of Haltwhistle won her class at the Great Yorkshire Show in 2005 and she produced a heifer calf last August which Julie hopes to show later this year.

Only two years into showing cattle, during that year a Limousin cross Belgian Blue bullock called Mojo bought from Robin Williamson, of Hamsterly, winning three local championships in a row.

During the summer of 2006 they did not have much time for showing cattle, however at the end of October they had their best success to date with a 10 month old red Limousin heifer by Rossignol bred by John Richardson, of Appleby, which won the baby beef championship at Countryside Live in Harrogate.

She is likely to be shown at The Great Yorkshire this summer and be joined in the show team by a Belgian Blue heifer, also bred by Robin Williamson.

The showing has to fit in with Julie's events' organisation, which for an event like NSA North Sheep can take up to eight months.

For 10 years until 2001, Julie handled promotions for the Suffolk Sheep Society, after that she became involved with the NSA's stand at the Royal Highland, Royal and Royal Welsh.

In 2004, she co-ordinated Scotsheep with Euan Emslie which is staged on alternate years to North Sheep, last year's event being in Aberdeenshire.

After only as couple of months' breather from North Sheep, they will begin preparations for next year's Scotsheep at Hawick.

Also in 2004 she took on the organisation again with Euan of the Sheep Event at Malvern, previously run by the Royal Agricultural Society.

"It's all about attention to detail and making sure everyone is happy. It's always difficult staging specialist events on a farm to make sure you get everything like car parking or access right as you only have one chance," said Julie.




Beef Shorthorn Breeder Hosts Breedplan Seminar


High Performance Angus Bulls attract Top Bids at Perth


Early Grass Goosed on Cumbrian Shores