25/05/07

West Yorkshire Limousin cattleman Steven Priestley landed an unprecedented third successive championship success – and saw his victor sell for a new mart record price - at the annual multi-breeds show and sale of pedigree beef breeding cattle at Skipton Auction Mart. (Wed, May 23)

Steven Priestley with his Skipton pedigree beef breeding cattle Limousin champion, joined by judge Eileen Wilson.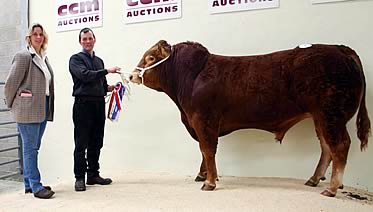 Steven, of JM & SM Priestley, Hill Top Farm, Denholme, Bradford, notched his first championship win in 2005, following up by sending out both the champion and reserve champion last year. This time around, it was another excellent young bull from the Priestley's Brontemoor herd that stole the show on his debut in the exhibition arena.
The September, 2005, bull – Brontemoor Apenzeller – by the AI sire Sarkley Panther, out of the home-bred Brontemoor Romance, also made a lasting impression in the ring, selling for the day's top price of 3,100 guineas, a new mart record for a pedigree bull, to E & MA Procter & Son, of Kirkby Stephen.
The Priestleys also sold another Limousin bull, the July, 2005, Brontemoor Arrowmint, by Procters Subaru, out of the home-bred Brontemoor Rolo, for 2,000 guineas to JR Carr, of Bolton Abbey.
Reserve champion was another show debutant, a January, 2006, Blonde D'Aquitaine bull exhibited by Ian Moorhouse, of TB Moorhouse & Son, Fouldshaw Farm, Dacre Harrogate, who are beginning to make their mark on the show circuit, stepping up on their second and third in class at last year's Skipton show.
Their 2007 runner-up, Fouldshaw Bouncer, is a product of Hillhead Umpire, standing in Ireland, himself a son of the French-bred Palace. The dam is the Cheshire-based Bridge Odile. Unsold on the day, Bouncer can be expected bounce back to further success in the show ring.
Judge Eileen Wilson, of Scorton, Richmond, who breeds pedigree Limousin, Belgian Blue and Blonde D'Aquitaine cattle, said: "In a good show of young bulls, with all breeds well represented, the champion stood out as a long, clean modern-day bull carrying flesh in all the right places. The reserve was also a very good example of the breed."
The show saw a turnout of 25 breeding bulls and ten females and representation from Limousin, Belgian Blue, Charolais, Blonde d'Aquitaine, Aberdeen Angus and Saler pedigree breeds. Many came from noted breeders, offering plenty of appeal for pedigree, commercial, beef and dairy herds.
The fixture brought down the curtain on Skipton's 2007 "Pedigree Beef Season" series of midweek shows, which began last month and has grown to become one of the highlights of northern calendar. To foster additional interest, all shows ran alongside weekly sales of store cattle, young bulls and suckler breeding cattle.
Results:
Blonde D'Aquitaine Bull – 1 TB Moorhouse, Dacre, 2 J & JE Bradley, Litton, 3 JR Ingle, Gainsborough.
Limousin Bull – 1 JM & SM Priestley, Denholme, 2 AJ Mason, Embsay, 3 JM Dodsworth & L Wrightson. Other Continental Bull - 1 K Gamble, 2 AB Woodhouse.
Pedigree Female – 1,2&3 Rigel Pedigree, Middleton-on-Leven.

Other Chief prices:
Bulls: Blonde - JR Ingle 1600gns, B.Blue - K Gamble 1250gns. Limousin - AJ Mason 1800gns, 1200gns, T & E Priestley 1200gns. Females: Limousin Cow & Calf - AJ Mason 1550gns. Saler Heifer - Rigel Pedigree 900gns, 800gns. Blonde - J & JE Bradley 700gns.

Average Prices:
Bulls: Limousin 3,100gns av £1,500, Blonde 1,600gns av. £1,275. Charolais 1,350gns, B.Blue 1,250gns.
Females: Limousin Cow & Calf 1,550gns, Saler Heifer 900gns av. £892, Blonde Heifer 700gns, A.Angus Heifer, 400gns av. £420.

National Beef Expo boosts regional economy


Beef Expo 2007 Seals Cattle Export Links to Twelve Countries


Record Price at Skipton Hoggs with Lambs Show