02/05/07

A mart record price was set when the champions at the annual seasonal show and sale of gimmer hoggs with lambs at foot at Skipton Auction Mart (Mon, Apr 30) sold for an exceptional £420 per outfit.

The record price hoggs and lambs champions go under the hammer in the Skipton ring.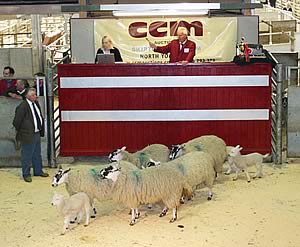 The title winners, a five-strong pen of Mule hoggs with single lambs from local farmer Arthur Maude, of College Farm, Bradley - the ewes were all bought at Skipton last year – set the ringside alight when knocked down to co-show judge Les Thackray to achieve a new price record.

It was a special occasion for Mr Thackray, of Clayton Farm, Mickley, Ripon. He is one of the biggest single buyers of sheep at Skipton and had that same day presented two perpetual trophies to be awarded annually for the Mule hoggs with lambs classes at the traditional fixture.

In handing them over for the first time to the victor, Mr Thackray, whose E Thackray & Sons' business trades sheep throughout the country, commented: "I think men who farm hoggs do a tremendous job to get them looking as they are and I have donated these trophies to be presented annually at Skipton to recognise this work."

With 1,040 ewes and lambs forward, it was as big a show of its kind as has been seen at Skipton in many a year.

The Mules class was again sponsored by NEMSA - the North of England Mule Sheep Association. Mr Thackray and fellow judge Sam Hudson, of Ashbourne, Derbyshire, awarded second and third prizes to father-and-son farmers Raymond and Robert Johnson, of Summerfield Farm, Felliscliffe, Harrogate, who had sent out the champions in both 2005 and 2006.

Mr Thackray also bought the runners-up for £135 per head, while the third in class pen went to C Wilson, of Grange-over-Sands for £130 apiece.

Second best price of the day was achieved by the 2006 top price man, Cumbrian vendor Thomas Whiteford, of Brampton, Carlisle, whose 2007 pen of five shearlings with twins sold locally for £200 each to Stephen Breare, of Silsden.

The Continentals class was won by a pen of Texel-cross hoggs with single lambs from Skipton-based John Stapleton, purchased for £150 apiece by Cheshire buyer David Jackson. The second prize pen from Michael Dugdale, of Giggleswick, also made £150, but it was the third prize pen from the same exhibitor that topped the class at £153 a head when sold to AW Hewitt, of Preston.

The show was sponsored by agricultural feed merchants I'Ansons, of Masham, represented by Mark Nicholson and Ben Norris, who were delighted to report that the champion exhibitor this year is one of their customers.

Lincolnshire Hampshire Down flock awarded championship


Stock Judges to Test Skills at NSA North Sheep 2007


Business boosting export opportunities at NSA North Sheep