SIMA 2007: Fendt demonstrates market leadership
08/03/07
France remained by far the most important foreign market for AGCO-Fendt in the previous year, with almost 2,000 tractors sold. This was a good reason for the company to make a grand appearance at this year's SIMA. All the innovations in the Vario model ranges and the complete harvesting equipment line were exhibited at the trade fair stand.
Fendt 936 Vario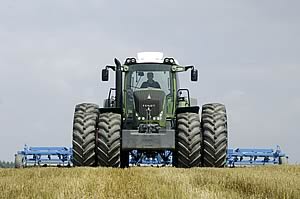 The AGCO-Fendt tractor line now includes 21 models, ranging from 95 to 360 hp.
The model ranges in detail:
Fendt 300 Vario
The four models in the new Fendt 300 Vario range are equipped with four-cylinder Deutz engines that have a maximum power output of 95 to 125 hp. The Vario transmission ML 75 was developed specifically for these exceptionally compact tractors. The entire speed range of the drive unit, which has only one operating range, goes from a super slow 30 metres per hour to a top speed of 40 km/h. A front axle with level control is available as an option.
Fendt 400 Vario
The five tractors in the new 400 range are lightweight, compact and very manoeuvrable. Fendt has equipped them with the innovative Vario transmission. The 400 series can optionally be retrofitted with high-tech features that are usually only found in high horsepower tractors. The Deutz four-cylinder engines with four-valve technology have a maximum power output of 115 to 150 hp. Thus Fendt presents the first tractor with a four-cylinder engine that goes far beyond the 100-hp limit.
Fendt 700 Vario
The 700 Vario was first presented by Fendt in 1998 and has developed into the most sold tractor with stepless drive. The four models in the new model range have been developed further in all technical aspects; they have the basic Variotronic features and can be custom-equipped with convenient features from the 800 and 900 machines: the TMS tractor management system, the Variotronic headland management system and the Auto-Guide steering assist system. The four-valve six-cylinder engines from Deutz supply a maximum of 130 to 180 hp.
Fendt 800 Vario
Both models in the new 800 range are equipped with six-cylinder engines from Deutz, which provide a maximum power output of 185 or 205 hp with a low specific fuel consumption of only 195 g/kWh. These compact high horsepower tractors have an excellent unladen weight of only 6,800 kg. With a length of 4.75 metres, a 2.72-metre wheelbase and a steering angle of up to 52°, these extremely manoeuvrable tractors have a turning circle of 5.60 metres.
Fendt 900 Vario
The 900 model range comprises six high horsepower tractors with power output ranging from 220 to 360 hp. They are powered by a newly designed, fuel-saving six-cylinder Deutz engine TCD 2013 LO6 4V with a 7.2 litre displacement. These flagships from Fendt can be driven with extremely large-sized wheels, with a wheel diameter of 2150 mm on the rear axle and 1750 mm on the front axle. The top model, the Fendt 936, boasts a maximum of 360 hp and is currently one of the most powerful standard tractors in the world – and, with a top speed of 60 km/h, it is also the fastest machine of this type.

Fendt harvesting equipment was also exhibited at the trade fair. The new Fendt E-series combines are efficient 5 and 6-straw walker machines. With power output ranging from 220 to 250 hp, they are particularly well suited for mid-sized farms and contracting businesses. The C-series, on the other hand, with either 270 or 300 hp is optimally suited for large farms and businesses. The variable round balers, Fendt 2600 and 2900, achieve optimum working results in all crops with standard equipment.

Claas Quadrant Baler Grabs Gold at SIMA


Culverwells Join Landini Tractor Network


Kuhn Develops Hedgecutter Range