Culverwells Join Landini Tractor Network
20/02/07
Managers and staff at one of south-east England's longest-established farm machinery retailers, E O Culverwell Ltd, are looking forward to a boost in sales of agricultural equipment having joined Landini's network of tractor dealers.
The Culverwells team (from left) John Bull, sales manager; Richard Cole, managing director and Anthony Skinner, sales - Tenterden branch, considered a number of tractor makes before decided that the Landini range would best suit them and their customers.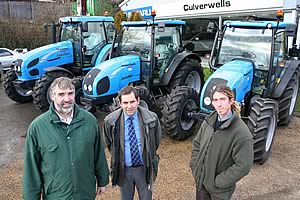 From its branches at Robertsbridge and Tenterden, the company will supply new Landini tractors and provide parts and service back-up to farming and non-farming customers across East Sussex and west Kent.
"Culverwells, a well-known and highly respected machinery dealer, will work alongside our existing dealers P J Machinery at Ashurst, near Steyning looking after West Sussex and Horsepower UK at Shottenden near Canterbury covering the rest of Kent," explains Landini UK sales manager Adrian Winnett. "With these three dealers, the Landini tractor range is now very well represented throughout south-east England."
Richard Cole, managing director of Culverwells, says he and his sales team evaluated a number of tractor manufacturers when the firm started looking for a new franchise last autumn. They quickly concluded that Landini would best meet the needs of their customers.
"The tractors come from one of the world's biggest manufacturers of agricultural equipment and in terms of size, power, performance and specifications, there are models to suit the many different types of tractor user in this area."
Sales manager John Bull highlights the choice of very simple specifications or sophisticated control and performance features on popular models like the 60-100hp Powerfarm, 80-100hp Vision and 118-184hp Landpower.
"We can supply a very simple tractor to people wary of electronics and that sort of thing or one with all the bells and whistles," he says. "It means we're not trying to force a particular specification on buyers – they can have pretty much whatever they want."
Anthony Skinner, who looks after sales at the Tenterden branch, emphasises the wide choice of tractor types and sizes available.
"Landini produces everything, from the 38-54hp Mistral compacts and 60-100hp Rex fruit tractors to the big Powermaster arable tractors with up to 280hp," he points out. "With such diverse rural businesses in this area, from stables and grounds care contractors to fruit growers and livestock and arable farmers, it's important that we can supply something for everyone – and with the Landini range, we can."
E O Culverwell Ltd has been serving agriculture as a privately-owned company in the south-east since 1932, although its roots go back a lot further than that. It took on the Massey Harris tractor franchise in 1936, which later developed into the Massey Ferguson product range. Reorganisation of the MF dealer network last year severed this long-standing association in its 70th year.
"That seemed like a real blow to our business but I'm confident that we'll quickly establish the Landini product range in this area," says Richard Cole. "For one thing, because of past supply agreements between the two companies, we've already sold Landini tractors painted red with 'MF' on their bonnets, and most of the current models are powered by Perkins diesels, so we'll be continuing with engines that we and our customers know and like."
That will make life easier for Tenterden branch service manager Bill Clifton and the service technicians at both branches, all of whom will be undergoing specialist training on the Landini products.
"It's another feature of the tractors that Landini makes just about everything apart from the engine, which is unusual these days," notes John Bull. "They make the transmission, axles, cab and bodywork. It means if we do have any service issues, we can go straight to the people who engineer these components for information and advice."
In addition to the extensive stock of parts held at Landini UK's base in Yorkshire, a local supply of Landini parts is already being built up at the Culverwells branches under the watchful eye of parts managers Richard Hedger (Robertsbridge) and Neil Munford (Tenterden).
Anthony Skinner, meanwhile, is delighted to have chalked up the firm's first Landini tractor sale – for a 50hp Mistral compact that will be used mainly for work in and around poly tunnels on a fruit farm.
"Having taken the decision to go with Landini, it's very encouraging to have had so many enquiries, and not just from existing customers," says Richard Cole. "We're getting some very positive feed-back about the products and I think anyone who hasn't looked at one of these tractors recently will be impressed by them."
The Culverwells team will formally launch the Landini range at the Romney Marsh ploughing match on 4th March. The tractors will also be on display at open days being held on 28th and 29th March at Robertsbridge and 31st March at Tenterden.

Landini Tractor Dealer Collects Southern Dealer of the Year Award


Landini Tractor Dealers Collect Awards


Landini expands field team to support farm machinery dealers and customers


Growing business for new Landini tractor retail dealer