08/02/07

A 5.2 metre version of the Pro-Longer hedgecutter, plus the option of crank arm models for this and the 5.7 metre machine, feature in Kuhn Farm Machinery's extended range of long reach hedge and verge maintenance equipment.

Kuhn's Pro-Longer hedgecutter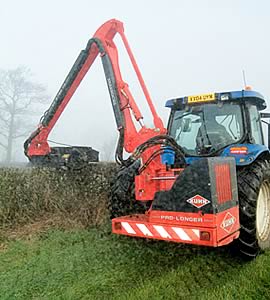 Other new developments for the EP 5253 PA and EP 5762 PA models, which are aimed at the larger farmer or contractor, include the availability of a universal quick hitch attachment or the alternative of a quick hitch axle mounting kit.

Since the launch of Pro-Longer in 2004, Kuhn has already upgraded the control function, replacing low pressure hydraulics with a fully electronic system that uses CAN – BUS technology. This system allows simultaneous proportional control of all movements from a single lever joystick.

Pro-Longer hedgecutters are designed as robust and simple-to-operate hedge and verge cutters with a 1.2m flail head that offers 220º rotation. Machines have the ability to work safely and effectively in tight spaces and behind the tractor wheel, due to the centred main boom base that also allows transport within the tractor width.

Hydraulic drive motors are fitted with oil coolers as standard, therefore allowing the machine to maintain full operating power with the additional benefit of a reduced oil capacity that ultimately cuts running costs. There are separate and fully independent pumps serving the rotor and arm movements. The Pro-Longer operates with a dedicated 60hp rotor circuit.

Arm construction is from sturdy 8mm box section steel and hinges are flanged and protected for minimal play and good hose holding. All machine joints, including the hydraulic rams, are enclosed and greased-for-life for minimum wear and maximum durability. The Pro-Longer has an hydraulic safety break back system with 180º power slew angle. Hoses are afforded generous protection through either metal casing or braided sleeves and are fixed through plastic flanges that ensure solid holding, precise routing and quick disassembly when required.

The flail head is compact for easy access and is fitted as standard with 'T' flails. Ground following is aided by a lift control system similar to that operating successfully on Kuhn mowers. This lift control system, which operates through movement in the main boom ram, can be switched on or off and works in tandem with the lateral rotation of the flail head to ensure optimum ground following.

The price of the Pro-Longer EP 5253 PA starts at £17,900 and the EP 5762 PA starts at £19,648.

Kuhn Flail Mower Makes Ideal Pasture Topper


Kuhn Upgrades Multi-Purpose Shredder Range


Kuhn Makes Innovative Entry To Manure Spreader Market


Kuhn Big Bag Fertiliser Lifter Extended for 600kg Bags


Hydraulic Drive Straw Blower Extends Kuhn's Primor Range


High Volume Diet Feeders Extend Kuhn's Euromix Range


Kuhn Spreader Hits the Fertiliser Target