27/02/07

SAC vets, Brian Hosie and George Mitchell, are advising all Scottish flock owners to test the sheep wormer they plan to use this season during the next few weeks.

Collecting Sheep Dung Samples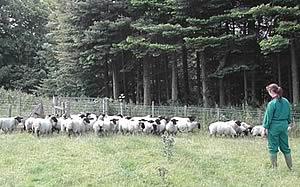 SAC Veterinary Manager Brian Hosie said, Every flock owner must ensure that the sheep wormer they select is effective at killing parasitic worms."

George Mitchell who is based at SAC's Ayr Veterinary Investigation Centre added, "All the evidence suggests that the parasitic worms present in most sheep flocks in Scotland are resistant to one or more of the three wormer families. This means that the wormer fails to kill more than 95% of worms present in the sheep at the time of dosing. The remaining, resistant worms are therefore able to prosper. Repeat treatments are then needed and, in addition to this, lambs fail to achieve target growth rates."

It is cheap and relatively simple for farmers to test the effectiveness of their sheep wormer. All that is required is the collection of dung samples from ewes a number of days after the wormer treatment. This interval is to allow the wormer to take effect. The samples can be tested either in the local vet lab or sometimes, by the flockowner's own vet.

NOTES:

1. All sheep wormers belong to one of three wormer families. These are
The benzimidazoles (white wormers)
The levamisoles (clear wormers)
The macrocyclic lactone (yellow wormers)
No new wormer families are expected to become available in the foreseeable future.
2. Anthelmintic resistance (AR) or the failure of a dose of wormer to kill parasitic worms is now well established in Scottish sheep flocks. The benzimidazole (BZ; white drench) class of wormer is no longer effective on most farms. A recent study by a veterinary practice in southeast Scotland found that no wormer was fully effective on 5 of 60 farms.
3. In the spring the additional stress of pregnancy causes an increase in worm egg output from many ewes. Therefor this is often a good time for the flock owner to test the wormer that he proposes to use is effective at killing parasitic worms. The next opportunity is after treating lambs in the summer or autumn. Unfortunately by that time damage may have occurred and the lambs' growth rates greatly reduced. Note that it is best to select ewes bearing twins as well-fed, single-bearing ewes may have little or no increase in their worm egg output.
4. In the coming weeks all flocks should carry out a post-dosing worm check on faeces from those ewes that were dosed with wormer to see whether the wormer was effective. The results will inform the worming strategy for the coming season.
Procedure for flock masters
1. Find out which family the wormer you plan to use belongs to. The information should be clearly stated on the label. If you do not know which family the wormer belongs to, ask the salesperson or your vet.
2. Dose the ewes correctly. Ensure that they receive the correct dose for their body weight. Weigh the heaviest animal and calculate the dose based on this animal
3. Obtain a sampling kit from your local SAC Veterinary Centre or telephone 01224 711 177 for a WormScan Kit and instructions. Collect the samples according to the instructions in the kit, the appropriate number of days after worming the ewes.
4. If no worm eggs are present in the sample taken after treatment then either the wormer was fully effective or the ewes did not require to be wormed.
5. If worms and/or eggs are present then discuss the results with your own veterinary surgeon. Either the ewes did not receive a full dose of wormer or the wormer was not fully effective. You may need to repeat the test with a wormer from a different wormer family.
6. The cost of the Wormscan Test Kit is £20 + VAT plus any addition charges levied by the veterinary surgeon for a consultation.

Foot Diseases - Keep a Step Ahead


The Magic Circle - Soil, Forage, Livestock


Free Autoworm Farm Pocket Book


Worm For Cash This Grazing Season